Danielle Walker's Against All Grain
Guest Post: Ground Lamb with Pine Nuts and Mint
Posted By Danielle Walker On March 23, 2013 @ 7:00 am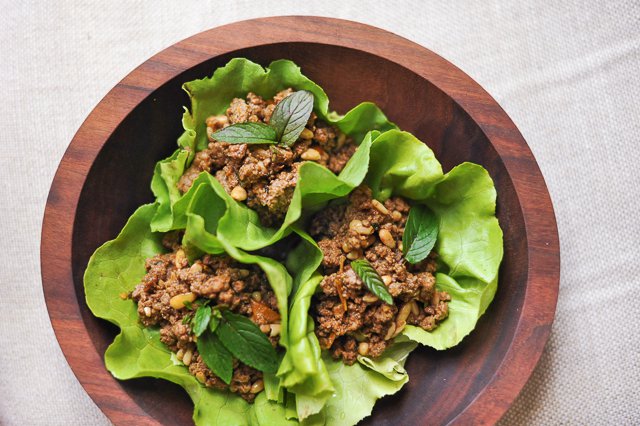 AUTHOR: Arsy Vartanian - The Paleo Slow Cooker
PREP TIME: 15 mins
COOK TIME: 255 mins> TOTAL TIME: 270 mins
Ingredients:
2 lbs ground lamb
1 tbsp ghee
2 onions, chopped
1 green pepper, chopped
1⁄8 cup pine nuts
3 cloves garlic, crushed
1 tsp cumin
1 tsp paprika
¼ cup mint, finely chopped
Salt and pepper just before serving
Instructions:
Sauté the onions, peppers and pine nuts in the ghee in a heavy-bottomed pan over medium heat for 5 minutes, until the onions are translucent.
Add the garlic and cook another 3 minutes until fragrant.
Combine the meat with spices (except the mint) and brown with the onions, breaking up the meat with a wooden spoon, about 8 minutes.
Transfer everything to the slow cooker.
Cook on low for 4 hours or high for two hours.
Add chopped mint 20 minutes before serving.
Salt and pepper to taste, then serve.
URL to article: https://againstallgrain.com/2013/03/23/guest-post-ground-lamb-with-pine-nuts-and-mint/
Click here to print.
Copyright © 2014 Against All Grain. All rights reserved.