Danielle Walker's Against All Grain
Corned Beef and Cabbage with Parsnip Turnip Purée
Posted By Danielle Walker On March 20, 2013 @ 12:37 am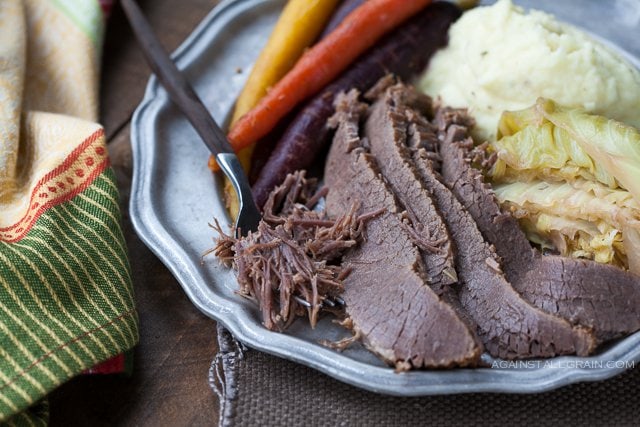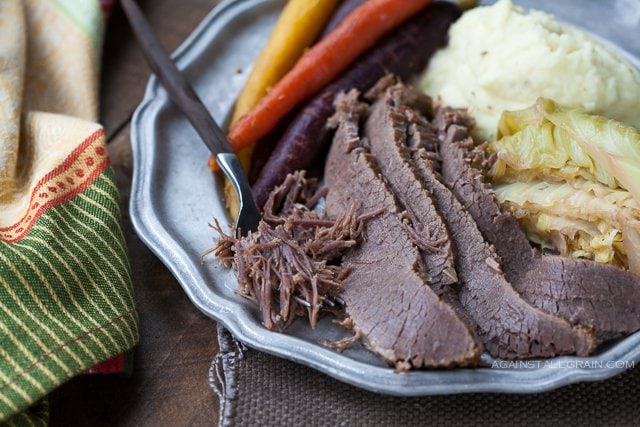 AUTHOR: Danielle Walker - AgainstAllGrain.com
SERVES: 4-6
Ingredients:
For the Corned Beef:
8 cups water
3 cups white wine
2 yellow onions, halved
1 head of garlic, cut across the equator
2 bay leaves
2 star anise
2 teaspoons mustard seed
1 teaspoon allspice
1 teaspoon cloves
¾ teaspoon black peppercorns
½ teaspoon juniper berries
½ teaspoon dried ginger
½ teaspoon dried dill
1 head green cabbage, quartered
1 bunch of carrots, scrubbed and trimmed
For the Parsnip and Turnip Puree:
1 pound parsnips, peeled and cubed
½ pound turnips, peeled and cubed
½ cup chicken broth
3 tablespoons butter or ghee
½ teaspoon sea salt
¼ teaspoon dried thyme
pinch of cracked pepper
Instructions:
For the Corned Beef:
Rinse the brined brisket well under warm water. Pat dry with paper towels.
Add the brisket, water, wine, onions, and garlic to a large dutch oven or stockpot. Bring to a boil and simmer for 30 minutes, uncovered. Skim foam and scum off the top.
Add the spices then cover and simmer on medium for 3 hours, until the meat is tender.
Add cabbage and carrots, cover, and continue cooking for 20 minutes.
Remove vegetables and meat and discard liquid. Thinly slice the meat against the grain on a diagonal.
Alternatively – add all of the ingredients to a crockpot and cook on low for 6-8 hours.
For the Parsnip and Turnip Puree:
Fill a pot with cold water and add the parsnips and turnips. Bring to a boil, then partially cover and cook for 15 minutes, until fork tender.
Drain the vegetables then transfer to a food processor.
Add the chicken broth, butter, sea salt, thyme, and pepper. Puree until smooth.
URL to article: https://againstallgrain.com/2013/03/20/corned-beef-and-cabbage-with-parsnip-turnip-puree/
Click here to print.
Copyright © 2014 Against All Grain. All rights reserved.