Danielle Walker's Against All Grain
Grain-Free Sugar Cookies (Paleo and SCD)
Posted By Danielle Walker On February 7, 2013 @ 9:00 am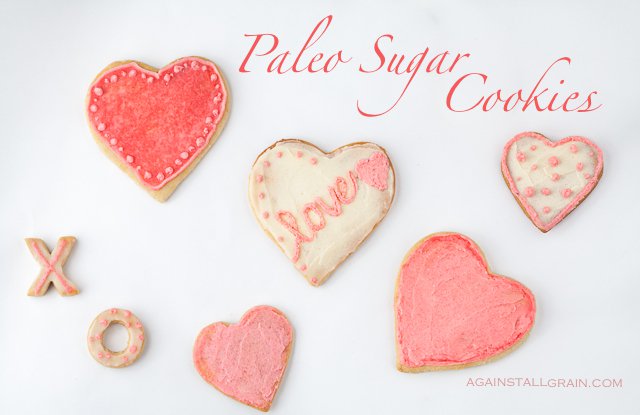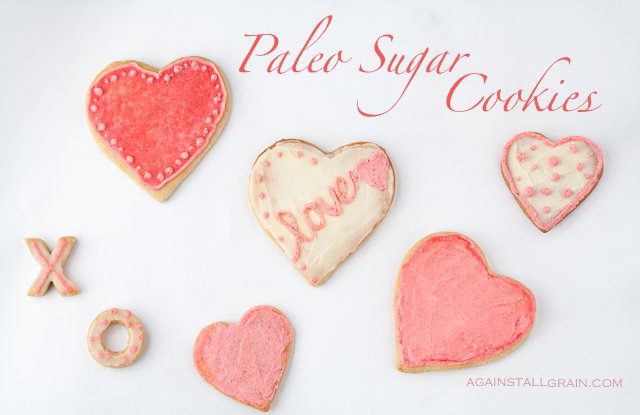 AUTHOR: Danielle Walker - AgainstAllGrain.com
SERVES: 1 dozen medium sized cookies
Ingredients:
Frosting
Instructions:
Preheat oven to 350 degrees.
Combine the dough ingredients in a food processor and process until a smooth ball of dough forms, about 30 seconds. Alternatively, mix all of the ingredients in a stand mixer or by hand. The food processed dough will be ultra smooth and the most like a conventional sugar cookie.
Flatten the ball of dough into a ½" thick disk and wrap in plastic wrap. Chill for 20 minutes.
Roll the dough out between two sheets of parchment paper, keeping it to a ¼" thickness. Remove the top sheet and sprinkle the top of the dough with 1 teaspoon coconut flour, rubbing it in slightly with your fingers. Dip a cookie cutter in a little flour then cut your shapes, peeling away excess dough as you work. Gather the excess dough into a ball and re-roll it. If it starts to dry out or crack as you work with it the second or third time, lightly wet your hands before kneading the scraps to add a little moisture back into the dough.
Bake the cookies on a tray lined with parchment paper for 8-10 minutes. Cool completely on a wire rack.
Frosting
Warm the cacao butter and coconut butter over low heat until melted, but not boiling. Pour it into a bowl and whisk in the cold coconut milk and honey. Refrigerate for 20 minutes to set.
Scrape the frosting into a blender or food processor and pulse a few times until the frosting is smooth and fluffy. Add any food coloring if desired or leave white.
Pipe designs or spread frosting onto cooled cookies.
*For the glossy look that I achieved with the dark pink heart, I first piped a thin border around the outside of the cookie and placed it in the fridge to harden for 10 minutes. Then I melted a little bit of the frosting until it was liquid and poured a little inside the border. I tilted the cookie around until the frosting "flooded" the space and stopped at the border. The others are just spread with an offset spatula then piped with designs.
URL to article: https://againstallgrain.com/2013/02/07/grain-free-sugar-cookies-paleo-and-scd/
Click here to print.
Copyright © 2014 Against All Grain. All rights reserved.