Danielle Walker's Against All Grain
Banana Nut Porridge
Posted By Danielle Walker On January 4, 2013 @ 4:07 pm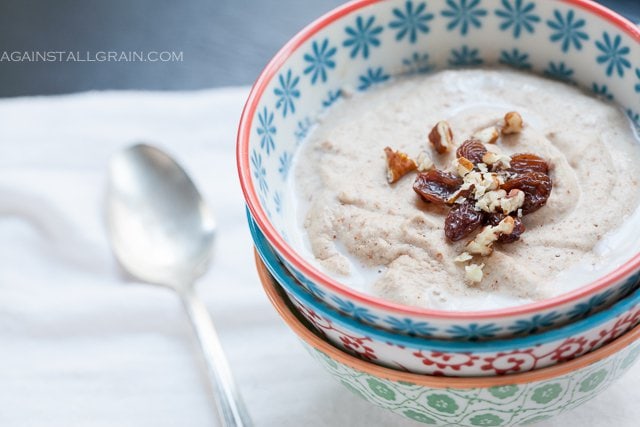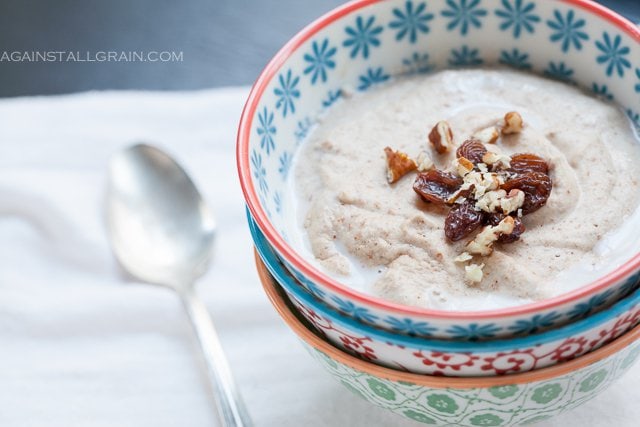 AUTHOR: Danielle Walker - AgainstAllGrain.com
SERVES: 4
Ingredients:
½ cup raw cashews
½ cup raw almonds
½ cup raw pecans
1 very ripe banana (makes it easier to digest plus adds a little more sweetness)
2 cup coconut milk
2 teaspoons cinnamon
dash of sea salt for soaking water
Instructions:
Place the nuts in a large bowl and sprinkle the sea salt over them. Fill the bowl with filtered water so the nuts are covered by at least 1 inch of water. Cover and soak overnight.
Drain the nuts and rinse 2 or 3 times, until the water runs clear.
Add the drained nuts to a food processor or high-speed blender. Blend the nuts with the banana, coconut milk, and cinnamon until smooth.
Divide it into bowls and microwave for 40 seconds or put all of the porridge in a pot on the stove and heat over medium-high heat for 5 minutes.
Serve with raisins, chopped nuts, and an extra splash of milk if desired.
URL to article: https://againstallgrain.com/2013/01/04/banana-nut-porridge/
Click here to print.
Copyright © 2014 Against All Grain. All rights reserved.