Danielle Walker's Against All Grain
Chai Tea Concentrate
Posted By Danielle Walker On December 20, 2012 @ 12:04 am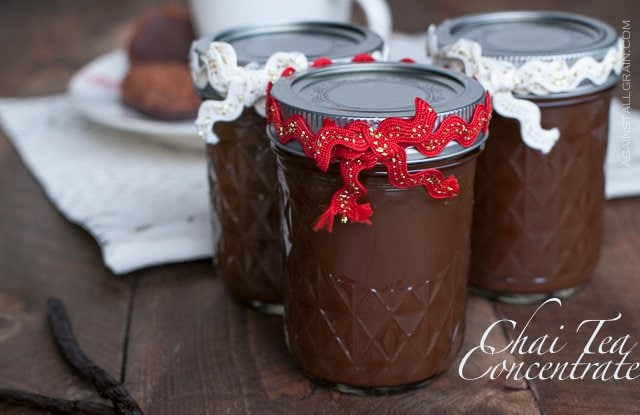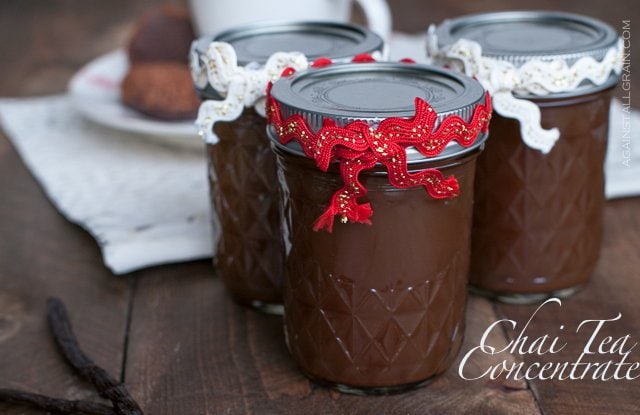 AUTHOR: Danielle Walker - AgainstAllGrain.com
Ingredients:
10 cups filtered water
18 bags black tea (preferably darjeeling)
4 cinnamon sticks
4 star anise
3 teaspoons whole cloves
2 vanilla beans, split
3 tablespoons chopped fresh ginger
1½ teaspoons whole cardamom pods, smashed with the butt of a knife
1½ teaspoon peppercorns
1½ teaspoon ground nutmeg
1 teaspoon fennel seed
zest from 1 orange
1 cup honey
¼ teaspoon lime juice
Instructions:
Bring the water and tea bags to a boil in a large pot. Reduce heat to a simmer and add everything except the lime juice and honey.
Simmer uncovered for 20 minutes. Remove the tea bags and continue simmering with the spices for an additional 20 minutes.
Strain the tea into a large bowl and discard the spices. Stir in the honey and lime juice while the tea is still hot.
Fill sterilized jars leaving a ¼ inch of head-space. Seal the jars and process in a hot water bath for 15 minutes. Remove with tongs and let sit at room temperature for 5 minutes. Lightly press the center of the lid with your finger. If it sealed properly, the lid will not flex up or down (or pop).
This concentrate will last in the fridge for 2 weeks or at room temperature for 3 days.
To serve
Mix 1 part concentrate with 2 parts milk (I like using half coconut and half almond) and heat or serve over ice.
URL to article: https://againstallgrain.com/2012/12/20/chai-tea-concentrate/
Click here to print.
Copyright © 2014 Against All Grain. All rights reserved.