Danielle Walker's Against All Grain
Cranberry Lemon Loaf
Posted By Danielle Walker On December 6, 2012 @ 9:47 am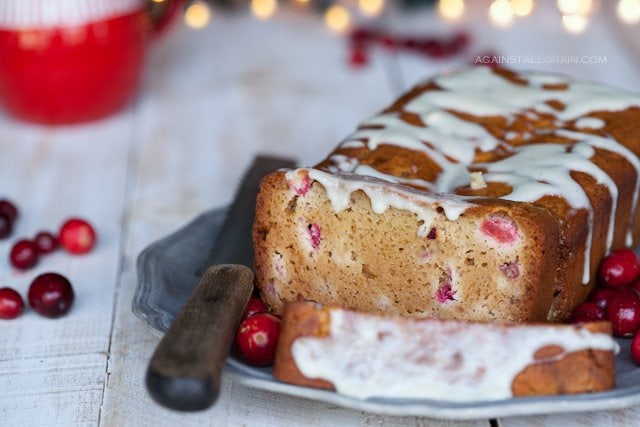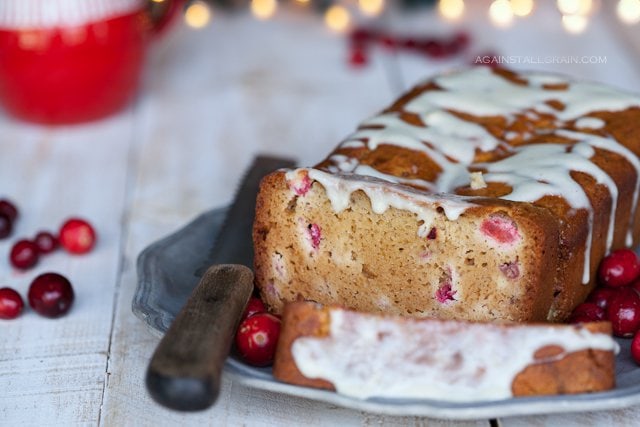 AUTHOR: Danielle Walker - AgainstAllGrain.com
Ingredients:
2½ cups blanched almond flour
¾ teaspoon baking soda
½ teaspoon ground cardamom
¼ teaspoon sea salt
½ cup honey
⅓ cup palm shortening, or unsalted butter – room temperature
4 large eggs – room temperature
1 tablespoon fresh lemon juice
2 teaspoons vanilla extract
1 cup chopped cranberries, fresh or frozen
Glaze
¼ cup raw cashews
4 teaspoons coconut milk
3 teaspoons expeller pressed coconut oil, melted
3 teaspoons water
2 teaspoons honey, liquid
2 teaspoons lemon juice
Instructions:
Preheat oven to 350 degrees.
Lightly coat an 8×4 loaf pan with coconut oil, then line with parchment paper.
Place all of the loaf ingredients, except the cranberries, in a blender. Blend on low for 20 seconds to get things moving, then increase the power to high and blend for 30 seconds, until very smooth. *Tip: place the liquids on the bottom to help the blade move easily.
Mix in the chopped cranberries by hand, then pour the batter into the prepared loaf pan.
Place the loaf in the oven, then immediately reduce the oven temperature to 325.
Bake for 45-50 minutes, until a toothpick comes out clean when inserted into the center of the loaf.
Let the loaf cool on a wire rack for 15 minutes, then gently loosen the sides and remove it from the pan.
Continue to cool until it has reached room temperature.
Meanwhile, make the lemon glaze. Add all of the ingredients to a small blender or food processor and process until smooth. Stop to scrape the sides if necessary to get all of the little bits of cashews. *If you only have a large blender, you may need to double the glaze recipe so it fills it enough for the blade to work and doesn't just spread up the sides. You can store the extra glaze in the freezer for 2 months for later use. *If you're allergic to cashews, you can use the glaze from this iced pumpkin cookie recipe and add a little lemon to it instead of the vanilla beans and cinnamon.
Once the loaf has cooled completely, drizzle the icing over the top. You can also evenly spread a thin layer on top.
Store the leftover loaf tightly wrapped in the refrigerator.
URL to article: https://againstallgrain.com/2012/12/06/cranberry-lemon-loaf/
Click here to print.
Copyright © 2014 Against All Grain. All rights reserved.