Danielle Walker's Against All Grain
Guest Post: Double Chocolate Pecan Cookies (grain/egg-free)
Posted By Danielle Walker On December 2, 2012 @ 6:00 am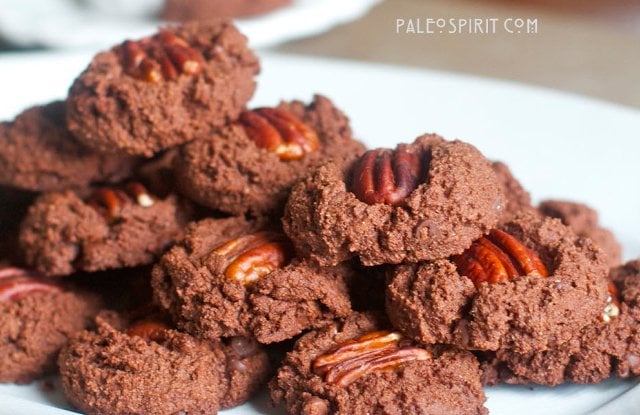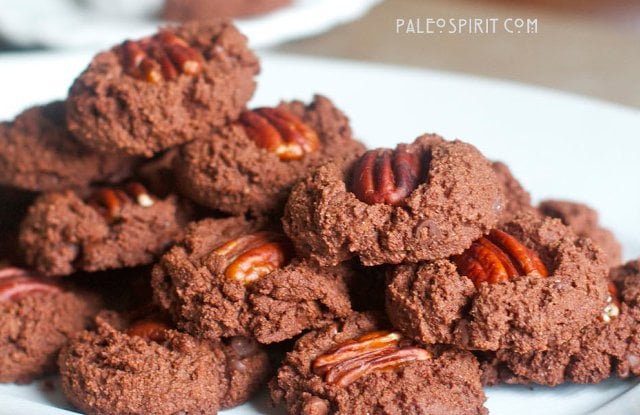 AUTHOR: Lea Valle - Paleo Spirit
SERVES: makes 30-36 cookies
Ingredients:
2 cups blanched almond flour
2 tablespoons coconut flour
1/2 cup cocoa powder
1/2 teaspoon Celtic sea salt
1/2 teaspoon baking soda
1 tablespoon vanilla extract
1/2 cup ghee or coconut oil (or butter), melted
1/2 cup coconut nectar or maple syrup (or similar sweetener of choice)
3/4 cup dark chocolate chips
Pecan halves (approximately 36)
Instructions:
Preheat oven to 350 degrees F.
Place the pecan halves on a baking sheet and toast in the preheated oven for about 10 minutes.
Combine remaining dry ingredients (except chocolate chips) in a large bowl.
Combine wet ingredients in a small bowl.
Mix wet ingredients into dry ingredients and stir in the chocolate chips.
Use a small cookie dough scoop or form into 1/2 inch balls and place on a parchment paper (or Silpat) lined cookie sheet. (Note: Chilling the dough prior to scooping is not entirely necessary but might be helpful if the dough is very sticky.)
Place one toasted pecan half on top of the cookie dough ball and press down until it is somewhat imbedded in the dough.
Bake the cookies for 10-12 minutes. Let them cool on the pan for a few minutes before removing so they set – otherwise they will be too soft and may fall apart.
URL to article: https://againstallgrain.com/2012/12/02/double-chocolate-pecan-cookies-paleo/
Click here to print.
Copyright © 2014 Against All Grain. All rights reserved.