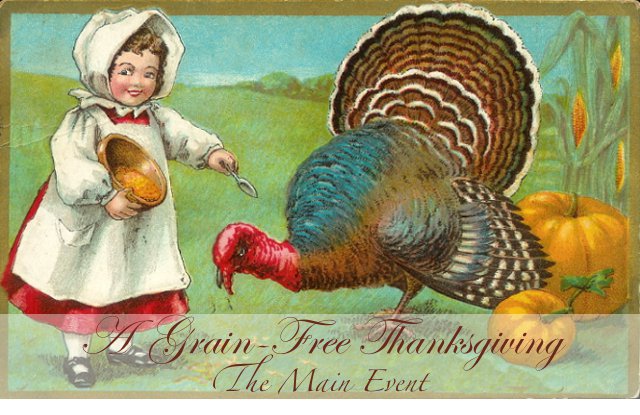 After posting the Thanksgiving Breakfast roundup the other day, emails began flooding in about Paleo Thanksgiving dinner ideas and tips. I had planned to post a roundup this weekend, but seeing as the big meal is on everyone's brains right now, I thought I'd get it to you sooner so you can begin making your shopping lists. I really do wish I could post all of my own Thanksgiving recipes for you this year, but this compilation of recipes from my blog and other Paleo blogs around the web are incredible and there's really no need to try to out-do them!
Thanksgiving has always been one of my favorite holidays, and not just because of the food. Actually, growing up my plate was always the most minimal among the group. I usually just went for the turkey, mashed potatoes, gravy and a little green beans. No sweet potatoes, bread, or even stuffing! I adored this holiday because I have always had so much to be grateful for and it was so nice to take an entire day to focus on all of the positive things in my life. As a child, I was thankful for health. Now, as an adult struggling with an auto-immune disease day in and day out, I can actually say I am grateful for this disease. It took 5 years to get to that point, but I am sincerely grateful that my sickness brought me to create this blog and that it, in turn, is able to help over 12,o00 people dealing with all different types of ailments and diseases. I'm grateful that God gives me perseverance to push through the hard times and the ability to create recipes that shine light into other's lives when they feel alone.  I wouldn't trade it for the world. Well, maybe I would trade the UC symptoms in for something else, but I wouldn't trade what gifts it has brought along with it!
Back to the feast. When I first went grain-free 4 years ago, I had the crazy idea to host my very first Thanksgiving. Not a smart idea, FYI. It's totally doable, but it's a lot of work, especially when you're first starting out!  You would think that Thanksgiving would be the hardest meal of the year to stay on track and not fall off of the grain-free wagon, but in reality, it is actually much tastier in it's grain-free form! I've compiled my tips and an entire meal for you to show you how easy and delicious it can be. And that you do not to need to compromise your health by indulging in that one spoon full of wheat stuffing or heaping helping of mashed potatoes. Let's start with the star of the show, shall we?
The Turkey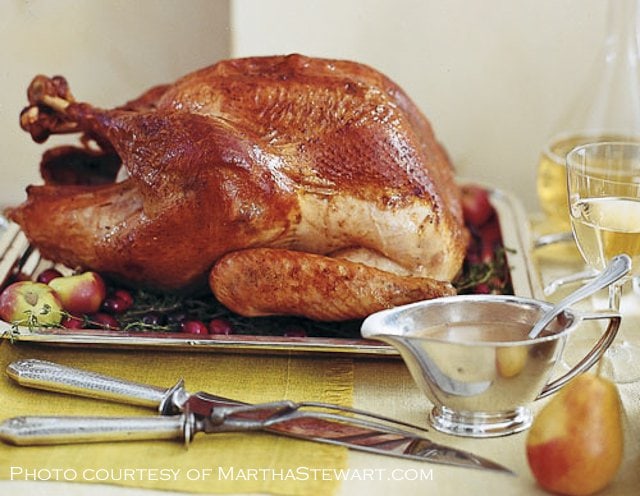 Brine
A brine is a mixture of salt, liquid and spices and is used to seal the outer pores of the turkey, trapping in all of the juices and tenderizing the meat. I am personally partial to a brined turkey. It takes an extra step in the prep work, but the salt bath ensures a tender and juicy bird and is very worth it in the end. Just a couple of tips – Do not bake your stuffing inside the cavity of a brined turkey and do not salt your gravy! There's enough salt already and you will be drinking water by the gallon (not to mention the bloat!) if you use any additional salt. This is my all-time favorite brine recipe from Martha Stewart, but you can also purchase jarred brines.
The Bird
I think  it is always best go with a simple turkey preperation, especially after brining it. Make sure to rinse the bird well after brining it and let it dry out completely, to avoid a soggy skin. My two favorite ways to prepare a turkey (or any poultry) is either with unsalted butter and fresh herbs stuffed under the skin, or unsalted butter and paprika rubbed on the outside. Butter works better than olive oil as the milk solids brown during the roasting, causing that crispy skin we all love. Rub a bit under the skin as well for an even crispier skin. You could also use duck or bacon fat if you want to stay away from dairy.  There's plenty of Paleo turkey recipes out there, but I think it's best to go with the expert's advice if your responsible for the main dish for a crowd of hungry people. This Martha Stewart recipe for Roasted Brined Turkey is a classic, and is sure to please your guests. Because grain-free stuffing can get soggy really easily, it is best to bake the stuffing separately. There's no need for the cheesecloth she calls for, just stuff the cavity with I replace it with cut carrots, celery, parsley, and onions. If you're feeding a smaller crowd, try purchasing individual turkey breasts instead and use this recipe for Italian Herbed Turkey for preparation.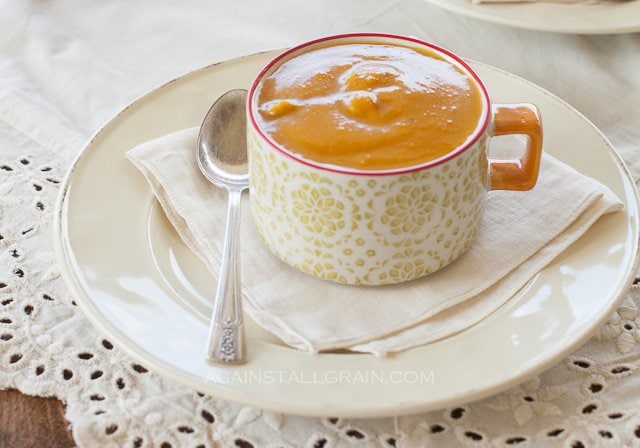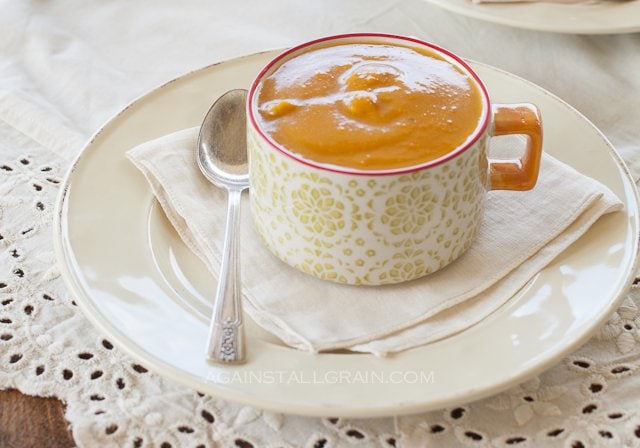 Roast Pumpkin Soup with Fried sage and Proscuitto
My Grandmother makes a version of this Roasted Pumpkin Soup every Halloween and I've adapted it to fit my diet. Served in small shot glasses, this warm and hearty soup will make the perfect amuse-bouche while your guests wait for the turkey to finish roasted.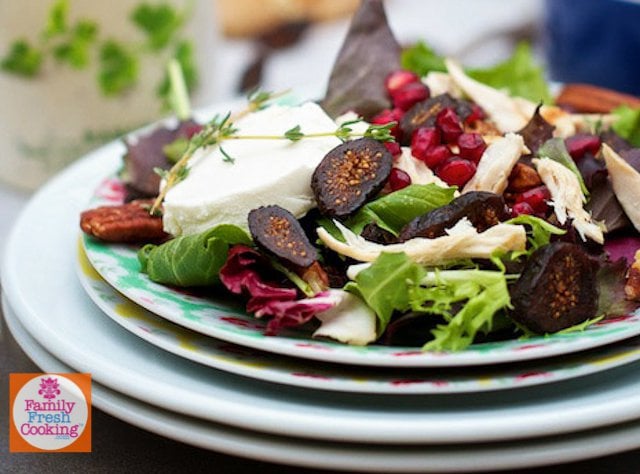 Festive Holiday Salad 
This gorgeous salad is full of holiday flavors and can be customized to your dietary needs. If serving as an appetizer, omit the turkey. The vibrant reds of pomegranate seeds and deep purples from the figs make this salad from Marla at Family Fresh Cooking the perfect starter to your Thanksgiving feast.
 Grain-Free Bread Stuffing (or Dressing)
As mentioned above, do not stuff a brined turkey with a bread dressing. First off, the brine will cause the stuffing to get really salty, and second – grain-free breads will get soggy easier than wheat ones, so it is best to bake it alone. I created this Apple Sausage Stuffing recipe a few years ago and have used it ever since. I even keep some of the leftovers in the freezer in case I get a hankering for it during the year and serve it with a simple roasted chicken. The bread in the original recipe uses a low-lactose Farmer's cheese as a binding agent, but you can also use this almond-flour bread recipe from Elana's pantry. Just make sure to the let the bread cubes dry out really well, as if they were stale. Alternatively, toast them in a low-heat oven until dry but not burnt.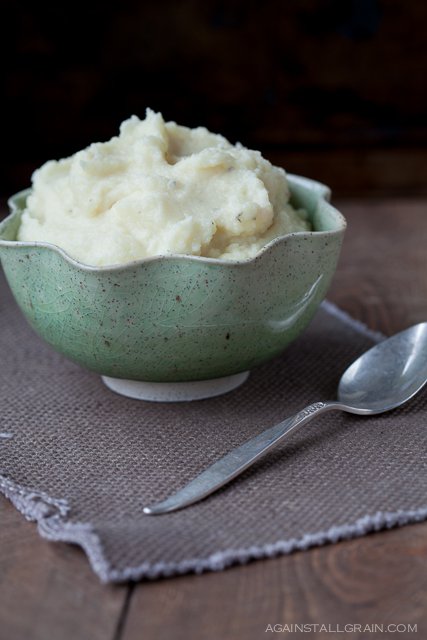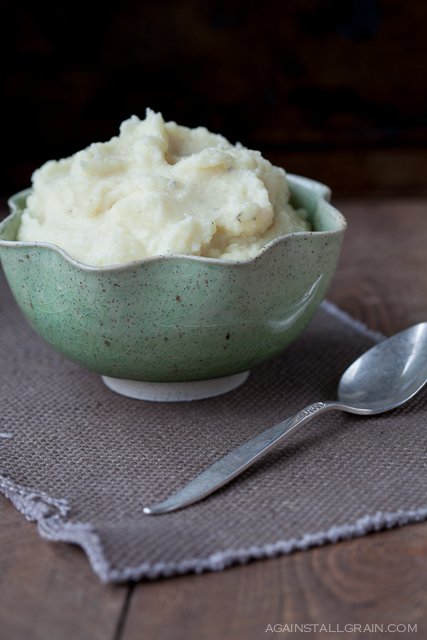 Mashed "Potatoes" 
Cauliflower is the most commonly used vegetable for mashed faux-tatoes, but this Turnip and Parsnip Puree is closer to the real deal in my opinion. You can make the flavors more complex by adding roasted garlic, herbs, or some parmesan cheese. If you're not ready to give up white potatoes entirely, you can use half cauliflower to cut down on the carbs. Serve these with this Paleo Herb Gravy from Elana's Pantry that uses pureed onions as a thickener.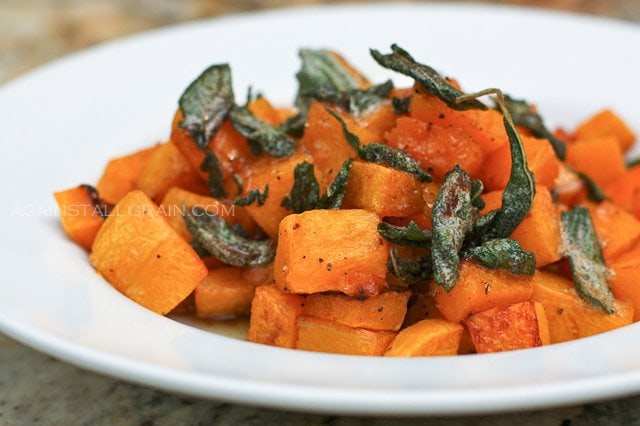 Roasted Butternut Squash in Brown Butter Maple Sauce
This side-dish is a fantastic substitute for those of you who cannot eat sweet potatoes. The rich buttery flavor of the squash is enhanced with a toasted butter sauce and sweetened with a bit of maple syrup. You can easily substitute honey for the maple if need be.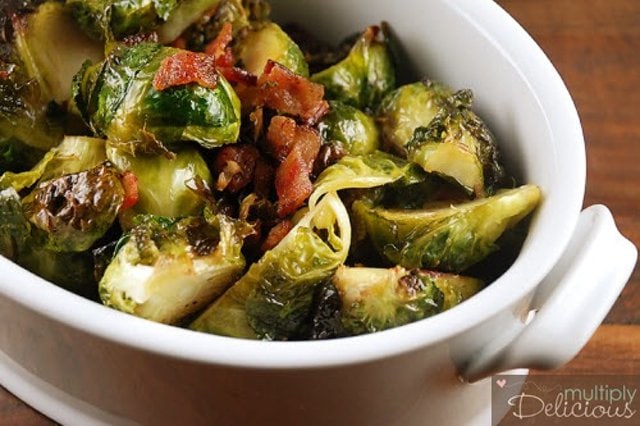 Bacon Brussel Sprouts
I can think of no other way to make brussel sprouts taste good than by coating them in bacon grease and eating a bite of crispy bacon with each sprout. We make these annually, but since I've never posted a recipe, I'll direct you to one from Multiply Delicious. We normally add sautéed yellow onion to the mix as well.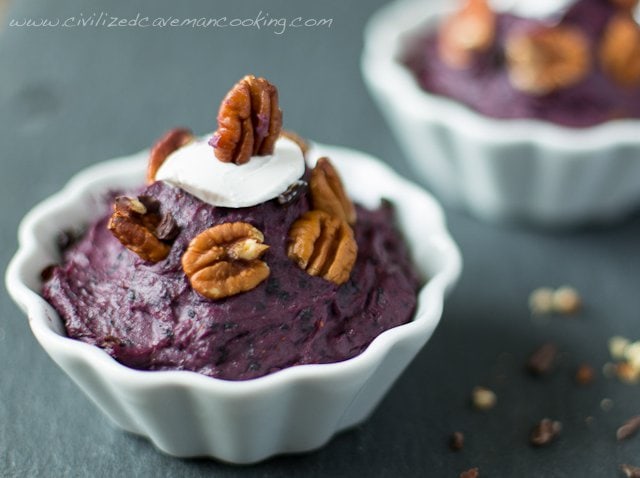 Purple Sweet Potato Mash
Add some color (other than orange!) to your Thanksgiving spread with these Mashed Purple Sweet Potatoes from The Civilized Caveman. I have to admit, I would probably leave out the blueberries if I was serving this as a side with my Thanksgiving dinner, but if you'd like, be daring and go outside the box!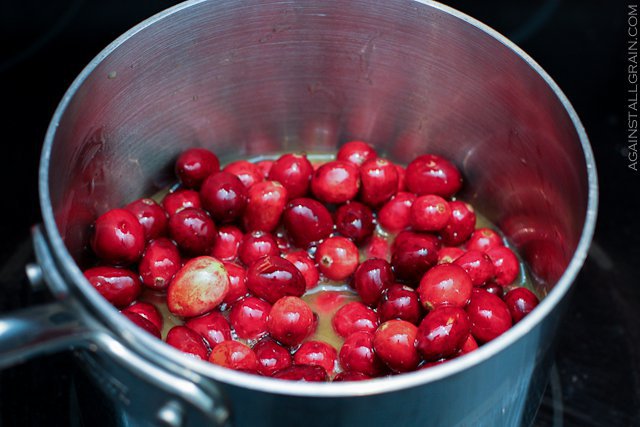 Cranberry Orange Relish
Ditch the canned gelatinous substance this year and leave behind the mounds of sugar that usually come with it. Instead, opt for this much more flavorful fresh Cranberry Orange Sauce as a condiment for your turkey and save the leftovers to use on moist-maker sandwiches the next day using my a few slices of my toasted Sandwich Bread (Friends reference anyone?).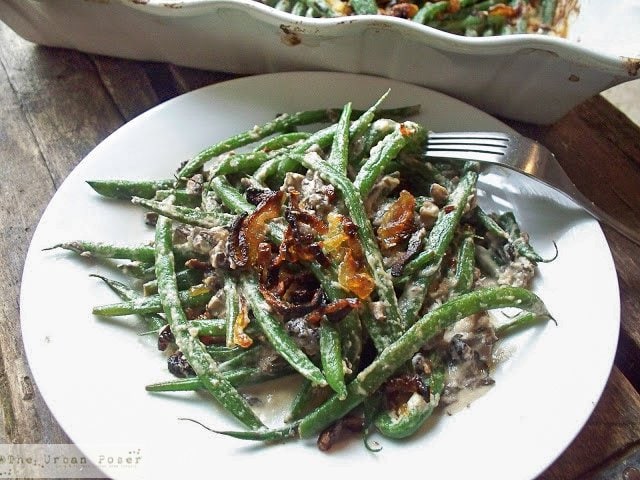 Green Bean Casserole
While the original dish uses condensed cream of mushroom soup, this version of Green Bean Casserole with Fried Shallots from the Urban Poser uses a cashew based gravy. You could also use my cream of mushroom soup recipe if you prefer.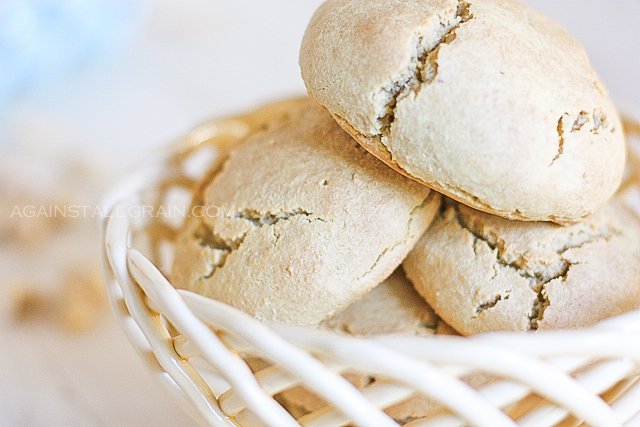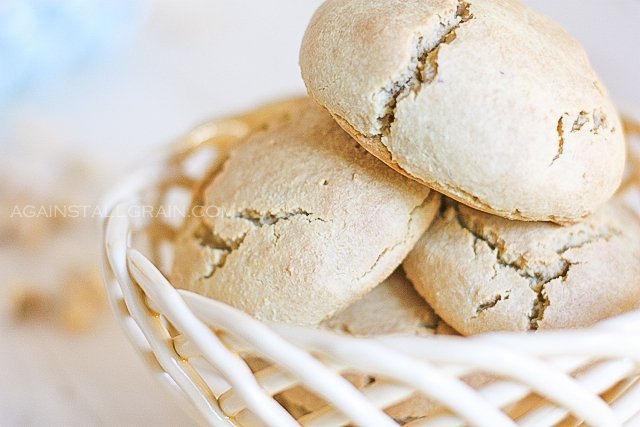 Buttery Dinner Rolls
What is a Thanksgiving spread without a basket of warm rolls and soft butter (grass-fed of course!) nearby to slather them in? I plan to use my Hamburger Roll Recipe and make smaller dinner roll sized buns out of them.
Now that I've spent the last few hours pouring over these delectable recipes, my stomach is growling and it's time for some lunch! I've also compiled a Paleo Thanksgiving dessert list to satisfy any sweet tooth over at my Pinterest Page.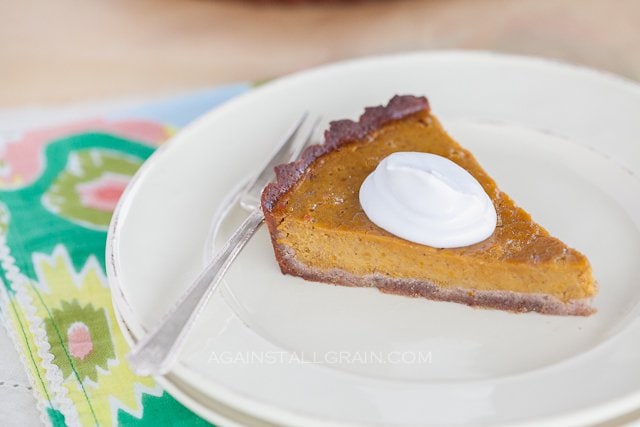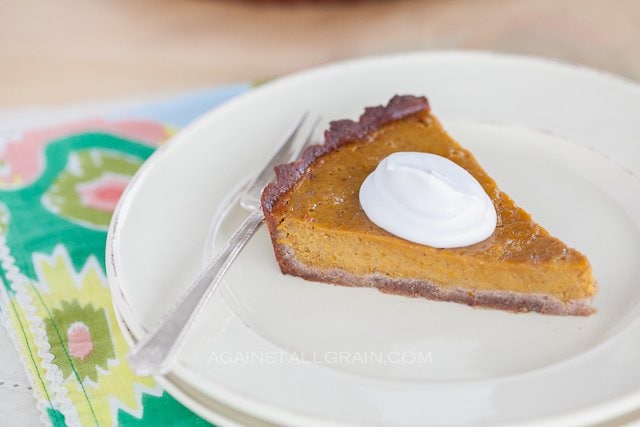 I realize that not everyone eats meat and some are even vegan, which really is not my forte. Matt and Stacy from the Paleo Parents prepare a partially vegan Thanksgiving meal for a family member, so if you are in need of inspiration, head on over to their page to see their Vegan Thanksgiving Menu!