Danielle Walker's Against All Grain
Pumpkin Spice Cookies with Vanilla Cinnamon Icing
Posted By Danielle Walker On October 9, 2012 @ 11:12 am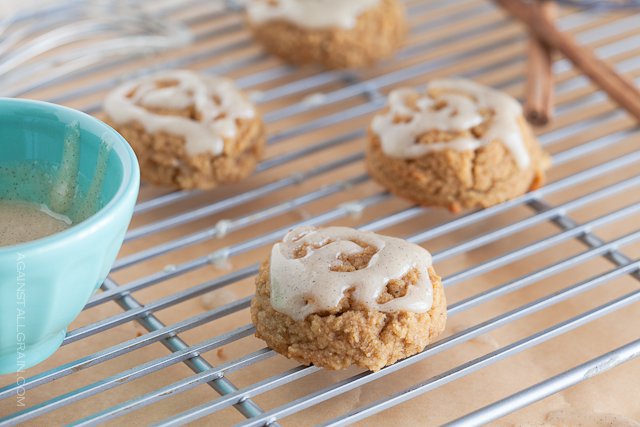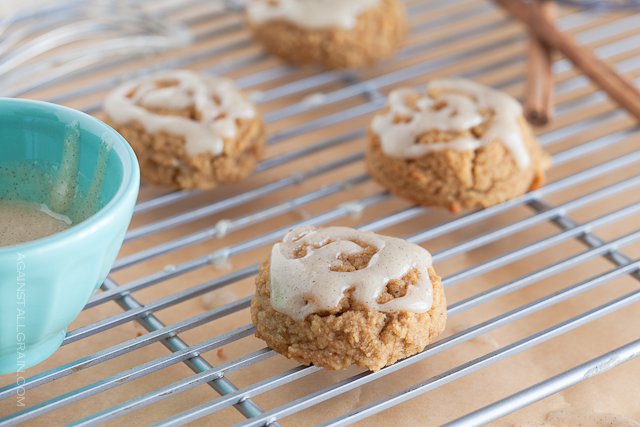 AUTHOR: Danielle Walker - AgainstAllGrain.com
Ingredients:
Icing
Instructions:
Preheat oven to 350 degrees F.
Mix together the dry ingredients in a small bowl.
In the bowl of a stand mixer (or for a smoother texture, food processor), combine the maple, pumpkin, egg, and vanilla.
Slowly incorporate the dry ingredients into the wet while the mixer is running.
Scoop golf-ball size balls of dough onto a lined cookie sheet. Press down lightly with your palm to flatten them a bit.
Bake for 18 minutes at 350 degrees. Let cool completely.
While the cookies are cooling, make the icing by pureeing all of the ingredients in a blender or small food processor. Leave at room temperature until you are ready to frost the cookies.
Variations – Skip the glaze and add chocolate chips or raisins to these cookies. Incredible!
URL to article: https://againstallgrain.com/2012/10/09/pumpkin-spice-cookies-with-vanilla-cinnamon-icing/
Click here to print.
Copyright © 2014 Against All Grain. All rights reserved.