Danielle Walker's Against All Grain
Guest Post: Paleo Pad Thai
Posted By Danielle Walker On October 6, 2012 @ 7:00 am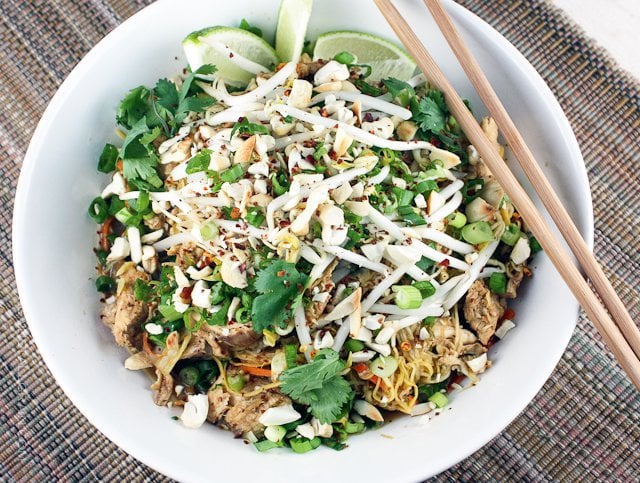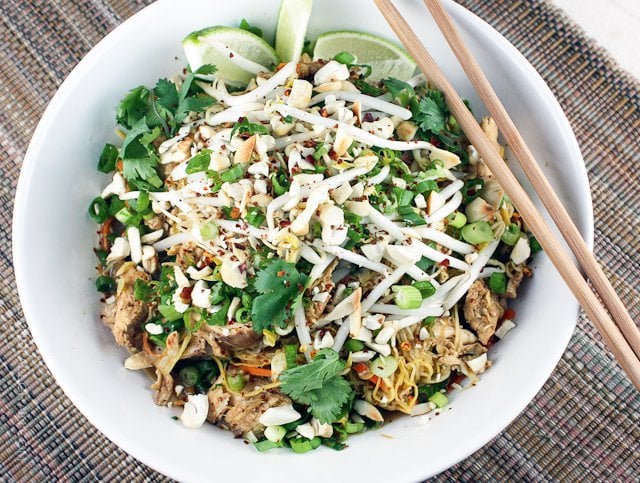 AUTHOR: Alta - Tasty Eats At Home
SERVES: 2
Ingredients:
1 tablespoon tamarind paste
1/3 cup warm water
2 tablespoon coconut aminos
2 anchovy fillets, mashed
2 tablespoons coconut palm sugar
1 tablespoon coconut vinegar or apple cider vinegar
1 tablespoon coconut oil
1 cup chopped scallions
½ cup shredded carrots
2 teaspoons minced garlic
2 eggs, beaten
6 oz cooked chicken breast, chopped
3 cups spiral-cut yellow summer squash (can substitute zucchini "noodles" or spaghetti squash)
3 oz mung bean sprouts (can substitute shredded or julienned jicama)
1/3 cup toasted cashews, chopped
Crushed red pepper flakes
1 lime, cut into wedges
Instructions:
In a small bowl, whisk together the tamarind paste, water, anchovies, coconut palm sugar, and vinegar. Set aside.
Place a large skillet or wok over high heat. Add coconut oil, and toss in 2/3 of the scallions, and all of the carrots and garlic. Saute, stirring constantly, for 15 seconds.
Add eggs to the pan, and once the eggs begin to set up (about 15-20 seconds), begin to scramble.
Add the chicken and stir in, then add the squash "noodles", half of the bean sprouts, half of the cashews, and the sauce.
Continue to stir/toss until everything is heated through, about 1 minute.
Transfer to serving dish. Garnish with the remaining scallions, bean sprouts, and cashews.
Serve with crushed red flakes and lime wedges.
URL to article: https://againstallgrain.com/2012/10/06/guest-post-paleo-pad-thai/
Click here to print.
Copyright © 2014 Against All Grain. All rights reserved.