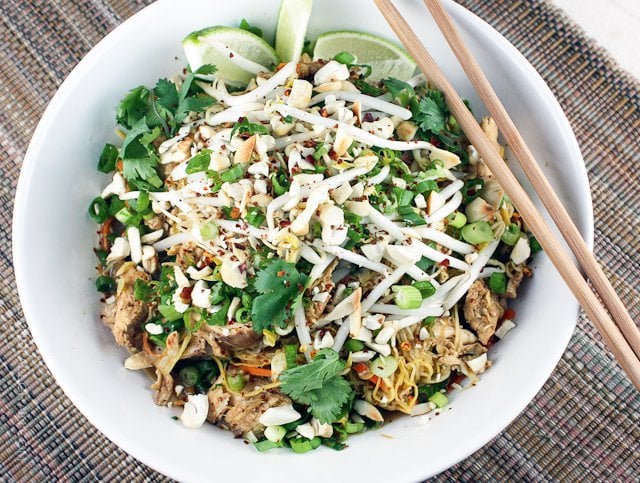 With my new cookbook well under way and keeping me very busy, I've lined up some fellow bloggers to do guest posts for me two Saturdays a month.  My autoimmune condition is heavily fueled by stress, so in an effort to stay healthy, these friends will help relieve some of the stress and keep recipes still coming your way! Today we have Alta from Tasty Eats at Home. Alta's recipes are not all Grain-Free, but today she is sharing a special Paleo Pad Thai recipe. Her recipes are all gluten and dairy free. Looking to make this into a whole Thai feast? Complete the meal with my Tom Kha Gai Soup, Yellow Curry Prawns, and Thai Iced Tea.

One of the first Thai dishes I ever encountered was Pad Thai. When I first went gluten-free, it was also one of the dishes I could eat at a Thai restaurant without making a bunch of substitutions. Besides, it's  delicious – a giant steaming bowl of rice noodles with the sweet-sour tang of tamarind, the salty peanuts, the heat of a few crushed red pepper flakes thrown on top, and the cool, crunchy bean sprouts. It's definitely a dish worth craving. Thai food is definitely not subtle on flavor, and Pad Thai is no exception. But when I realized my body is happiest when I eat little grains, I didn't want it to mean I had to go without those big, bold craveable flavors.
So I decided it was time to make a paleo version of this classic dish. It keeps the awesome explosion of Thai flavors, the pleasure of the sauce-coated noodles, without grains or legumes. The result is a lighter, but equally satisfying dish. I made a few substitutes. I used a pulp-free tamarind paste that you can find at Whole Foods, but you can also find it in well-stocked grocery stores in the Asian section, or in Asian groceries. I also opted to use anchovy fillets and coconut aminos in place of fish sauce, which is the traditional ingredient, but if you prefer to use fish sauce, go right ahead! Either will do – but that umami-laden flavor is what you want. I also used this new-to-me coconut palm sugar/jaggery, but you can simply use any coconut palm sugar, liquid or crystals. Here are the brands I used.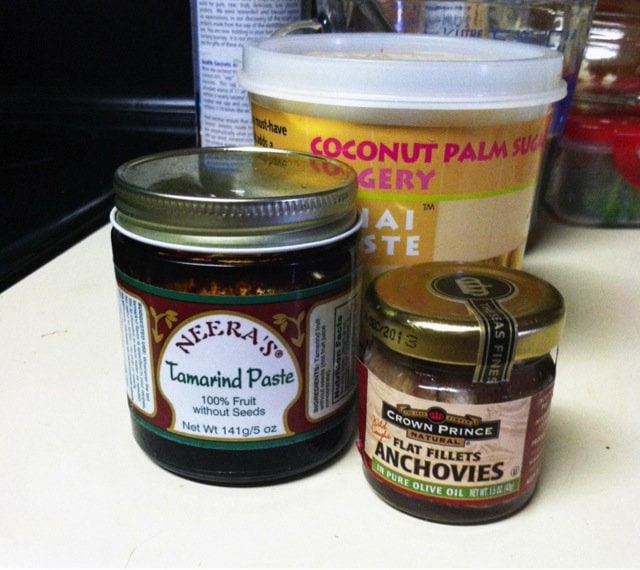 Lastly, I'm sure there is some debate whether mung bean sprouts are "paleo" or not. Personally, I don't have issues with consuming them, but if you are looking for an alternative, thinly julienned jicama would do nicely to provide that cool crunch.
The best part? Once you have all the ingredients, this dish comes together in a flash. This means you can have your favorite Thai dish any night of the week!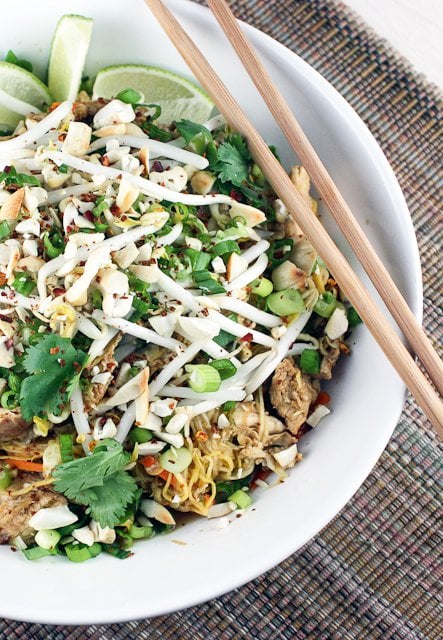 About Alta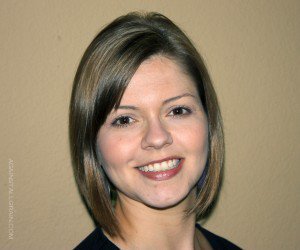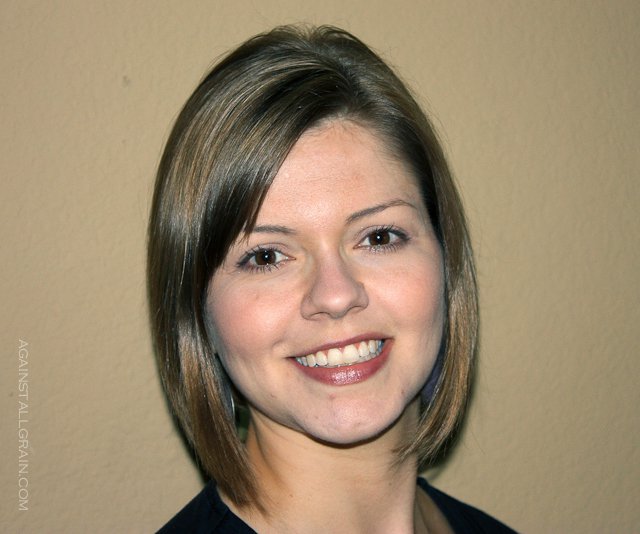 Alta is the founder of the gluten-free, dairy-free blog, Tasty Eats At Home. Even without gluten and dairy, Alta can show you that meals can be simple and healthy, and treats such as cake, bread, and cookies can be mouth-watering! Her goal is to share with you delicious, gluten-free, dairy-free food that can bring your heart joy and nourish your body, one recipe at a time.