Danielle Walker's Against All Grain
Fresh Pumpkin Puree Tutorial
Posted By Danielle Walker On September 30, 2012 @ 11:35 am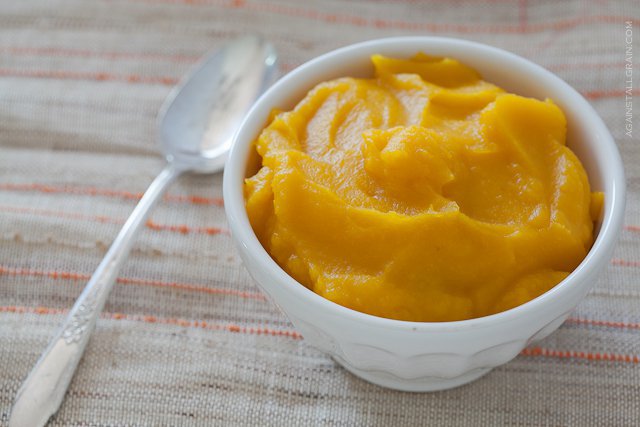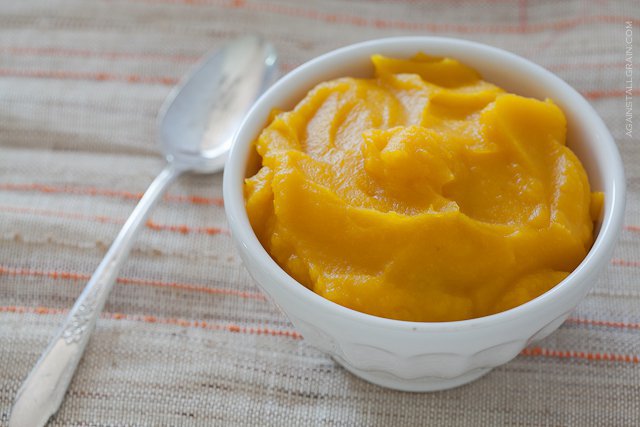 AUTHOR: Danielle Walker - AgainstAllGrain.com
Ingredients:
Tools & Equipment
Sharp Knife
Spoon or Ice Cream Scoop

Parchment Paper

Rimmed Baking Sheet
Instructions:
Preheat your oven to 350 degrees F
Cut the pumpkin in half and scoop out the seeds and stringy flesh in the center
Line a baking sheet with parchment paper or a Silpat
Place the pumpkins cut side down and rub their skin lightly with coconut oil
Pour enough water into the bottom of the cookie sheet to fill it about 1inch (but no more) up the sides of the pan
Bake for 30-40 minutes until the skin has wrinkled and the pumpkin flesh is soft
Once the pumpkin has cooled enough to handle, scoop out the flesh, discard the skin, and puree in a blender
Place the puree in a fine mesh strainer and set it over a bowl in the fridge for an hour or two to let the excess water drip out
Store the puree, covered, in the fridge for up to 5 days or freeze for 6 months
URL to article: https://againstallgrain.com/2012/09/30/fresh-pumpkin-puree-tutorial/
Click here to print.
Copyright © 2014 Against All Grain. All rights reserved.