Danielle Walker's Against All Grain
Guest Post: Mini Pumpkin Pie Tarts
Posted By Danielle Walker On September 22, 2012 @ 7:00 am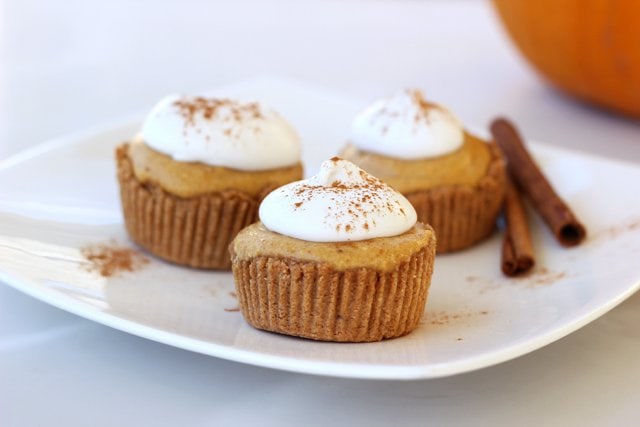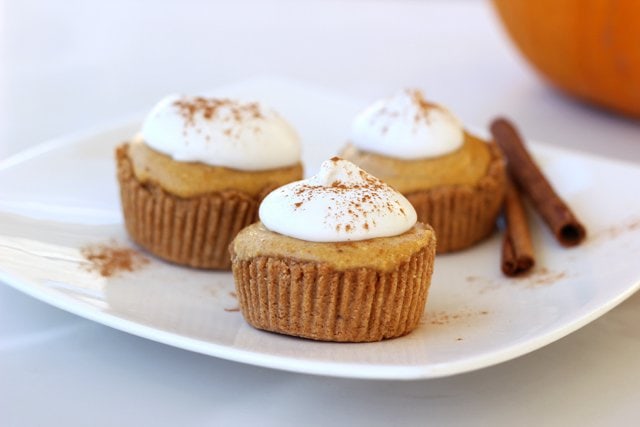 AUTHOR: Beth - Tasty Yummies
SERVES: 12 mini tarts
Ingredients:
2 cups almond flour
2 tablespoons maple syrup*
1/4 cup coconut oil, melted
1/2 teaspoon baking soda
1/2 teaspoon ground cinnamon
dash of ground nutmeg
1/8 teaspoon salt
Filling
1/2 cup raw cashews, soaked for at least 4 hours, preferably overnight
1/4 cup maple syrup*
1 teaspoon vanilla
1 cup fresh pumpkin puree (see my post on how to make your own, canned will also do)
2 tablespoons coconut oil, melted
1 teaspoon ground cinnamon
1/2 teaspoon ground nutmeg
1/2 teaspoon ground ginger
a pinch of ground cloves
a dash of sea salt
Whipped Coconut Cream
 1 can organic full fat coconut milk, refrigerated overnight
2 teaspoons maple syrup (use more or less or none at all, or whatever your favorite sweetener is)*
1 teaspoon vanilla
*Maple can be substituted 1:1 for honey if you follow SCD
Instructions:
Shells
Preheat oven to 350ºF. Line 12 cups in a muffin tin with paper liners (you could also use greased mini tart pans).
In a large bowl, add all of the crust ingredients and mix very well. Really get your hands in there to get it all together and work it into a nice dough.
Add the crust mixture to the muffin cups and press down firmly into the cup using your knuckles, going up the sides a tad bit.
Bake for 15-20 minutes until golden brown.
Allow to cool in the pan for about 10 minutes, then place the pan in the refrigerator until you are ready to assemble the tarts and serve. (Many times I make the tart shells the night before and keep them in the fridge until I am ready to serve)
Filling
Drain the cashews and add them to your food processor and give them a whirl by themselves for a bit, to break them up and start turning them into a paste of sorts.
Once the cashews are broken up add in the maple syrup, vanilla and coconut oil, process that a bit more until it is a smooth and creamy paste.
Add in the remaining ingredients and process until smooth and creamy.
Whipped Coconut Cream:
Make sure that your can of coconut milk is well chilled. I recommend leaving it in the fridge overnight. Open the can of coconut milk carefully, keeping it level. There will be a firm, waxy layer of coconut cream that solidified on top. Carefully scoop this off into a chilled glass bowl. Keep the leftover coconut water, it is great for smoothies.
Using a mixer, whip the coconut cream for 3 to 5 minutes until it becomes light and fluffy, with soft peaks.
Mix in your maple syrup and vanilla, if you are using.
Place the whipped coconut cream back into the fridge until you are ready to use. This may be more than what you need for all 12 tarts, depending on how much you put on top, but that's ok, it keeps for several days, covered in the fridge.
Assembling the Tarts:
Remove the paper liner off of the tart shells. Top each of the tart shells with a spoonful of the pumpkin filling and a dollop of whipped coconut cream, sprinkle with a little ground cinnamon. Serve immediately.
URL to article: https://againstallgrain.com/2012/09/22/mini-pumpkin-pie-tarts/
Click here to print.
Copyright © 2014 Against All Grain. All rights reserved.