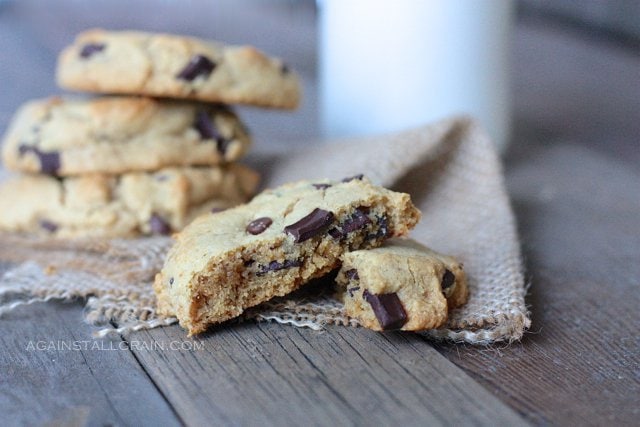 These chocolate chip cookies are the real-deal; I crafted them to taste as good, if not better, than their gluten filled cousins.  We keep a staple of these in our freezer at all times as the kids LOVE to snack on them as a special treat.
This recipe can be found on page 258 of my book! 
From the Paleo Parents: "You know that golden brown Toll House style cookie you want that's just soft enough not to feel stiff and dry but not so soft that it falls apart? I don't know how she did it, but Danielle made it happen! We were completely wowed by them and made them our movie snack one night. We left with 10 and returned with one. They were that good!"
If you frequently succumb to looking at food-porn (hate that name), on sites like Pinterest, ChowStalker, or FoodGawker, then you know that a simple image can have you salivating and daydreaming about the dish in an instant. Sadly a lot of grain-free foods are deceiving to the eye. They can look like the real thing but can be disapointing when you take your first bite.
I can assure you that these cookies are not grain-free imposters that only look appetizing. They exceed all taste and texture expectations as well. Remember in my grain-free waffle post how I mentioned that my husband thought they were the closest thing to "real" food I've ever made? Well these chocolate chip cookies take the cake. Or take the cookie, so to speak. He says they are actually better than the original. When he first tasted them, he thought they were the real-deal. White flour, sugar, butter – the works. We also had a house full of college students that night that thought the same. And they're used to eating the break-and-bake Tollhouse kind! As I always say, if I can pass my food off to people who eat a regular diet and have them love it more than the original, mission accomplished!
I'm so obsessed with these cookies that I had to put the breaks on making them. I have no will-power. I even put the extras in the freezer one time hoping that it would deter me finishing off the batch, but the plan failed miserably as I found myself gnawing through a frozen cookie one afternoon and actually enjoyed the frozen texture! Seriously, when it comes to self-control with chocolate chip cookies, I have none.
We've been using the real deal chocolate chip cookies for ice-cream sandwiches all Summer and I made them into mini cookies for Asher's 2nd birthday a few weeks ago. I perfected this recipe for you about 2-dozen times, and now they're on my black-list. They will only be make for special occasions where I will be giving them ALL away!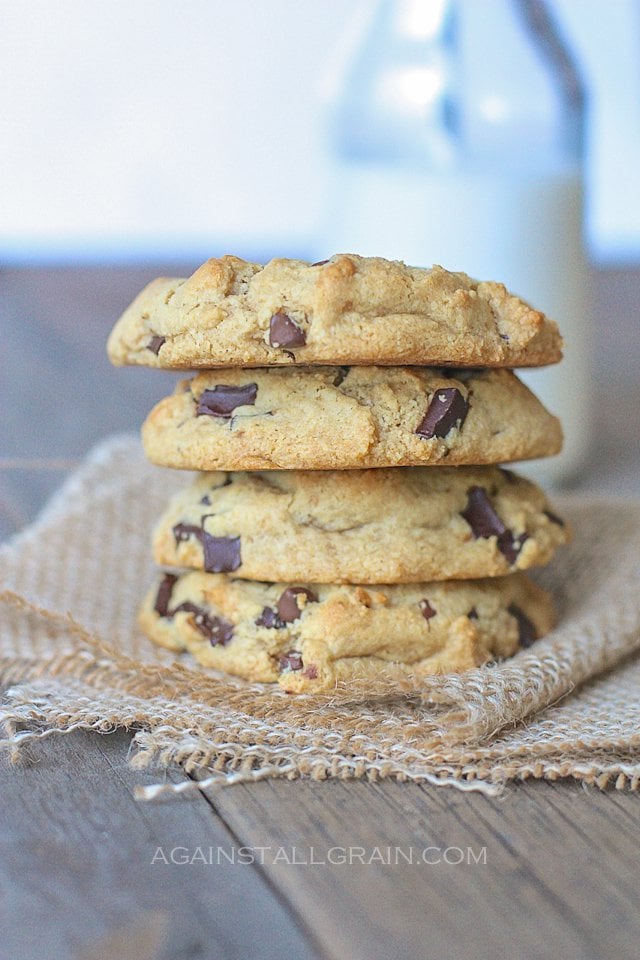 *These keep best in an air-tight container in the fridge.
Notes:
* If you don't have a food processor, put a couple of cups of your almond flour in a blender or coffee grinder and give it a few pulses. Careful not to go too far or you will have almond butter.  Then make the dough in a stand-mixer or bowl with electric beaters. *Measure the 1½ cups almond flour after you've ground it.
* If you plan to double this recipe, reduce the coconut flour by 1 teaspoon (so you would use 3tbs+2tsp).
* I do not like these with coconut oil. Palm shortening makes them chewy. If you're going to sub it out, my first suggestion would be grass-fed butter.
* I like the flavor complexity with using 2 different types of chocolate, but you're welcome to use whatever you'd like.
* The palm sugar gives the cookies a "brown-sugar" like taste that the original CCC has. You can try using all honey, but because it is liquid, the texture and flavor will change slightly.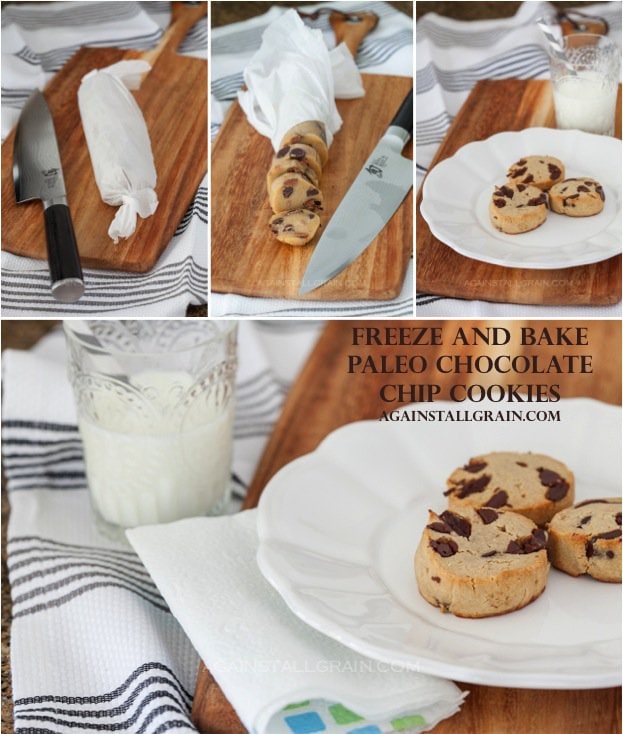 Freeze-and-Bake Instructions
Make the dough as described above
Gather it into a large ball and roll it into a log
Tightly wrap the log in parchment paper, then twist the ends to secure
Freeze for up to 6 months
Preheat oven to 325 degrees then slice off desired amount of cookies
Place dough on a cookie sheet and bake for 15 minutes
*cookies will hold their small round shape when baked this way
Give this dough as a gift! 
click the tags below for a printable version