Danielle Walker's Against All Grain
Hawaiian Turkey Burgers
Posted By Danielle Walker On August 17, 2012 @ 7:59 am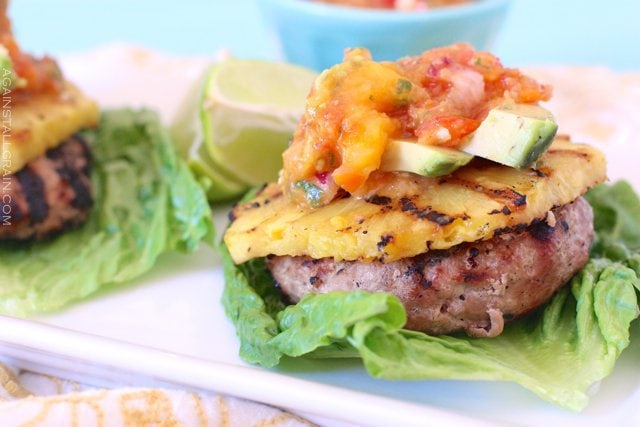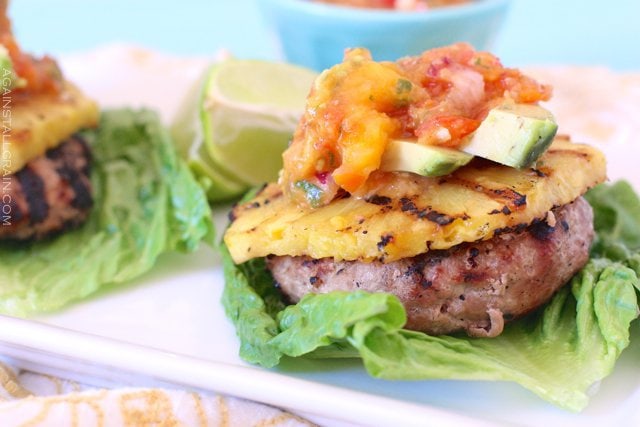 AUTHOR: Danielle Walker - AgainstAllGrain.com
SERVES: 6
Ingredients:
⅓ cup pineapple juice
2½ tablespoons coconut aminos
1 tablespoon sesame oil
2 cloves garlic, minced
1 teaspoon ginger, grated
1 teaspoon sesame seeds
1 teaspoon salt
¼ teaspoon red pepper flakes (omit for nightshade free)
3 pounds ground turkey, dark meat
1 pineapple
Salsa
1 mango, peeled and diced
½ cup baby tomatoes (sub papaya for nightshade free)
2 tablespoons basil, chopped
2 tablespoons pineapple juice
1 teaspoon ginger, grated
1 garlic clove
¼ teaspoon sea salt
Instructions:
Mix together the pineapple juice, coconut aminos, sesame oil, garlic, ginger, sesame seeds, salt and red pepper flakes. Add the ground turkey and knead the sauce in with your hands. Cover and refrigerate for 30 minutes.
Combine all of the salsa ingredients in a food processor or blender and pulse until roughly chopped. Refrigerate to let the flavors meld while you wait for the meat to marinate.
Peel, core, and slice the pineapple into rounds. You will only need 6 slices, so keep the rest in the fridge to snack on!
Preheat a grill to medium heat. Form patties with your hands from the marinated turkey meat.
Grill the patties for 4-5 minutes on each side, until they have an internal temperature of 180 degrees F.
Remove the patties and tent loosely with foil while you grill the pineapple.
Grill the pineapple rounds for 1 minute on each side.
Serve the burgers over lettuce (or on my Grain-free Buns) topped with Mango Salsa and a piece of grilled pineapple.
URL to article: https://againstallgrain.com/2012/08/17/hawaiian-turkey-burgers/
Click here to print.
Copyright © 2014 Against All Grain. All rights reserved.