Danielle Walker's Against All Grain
Meat Lovers Pizza
Posted By Danielle Walker On August 7, 2012 @ 10:13 am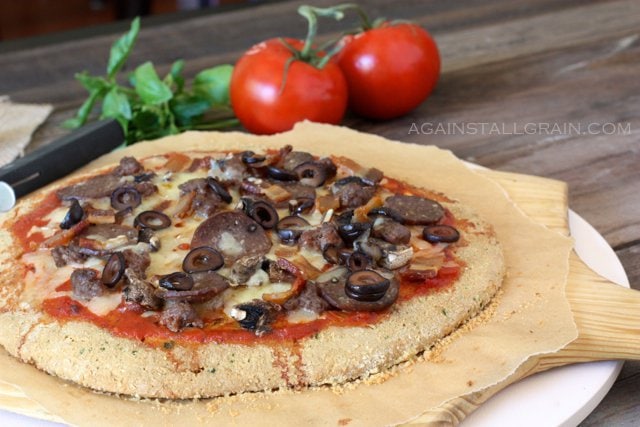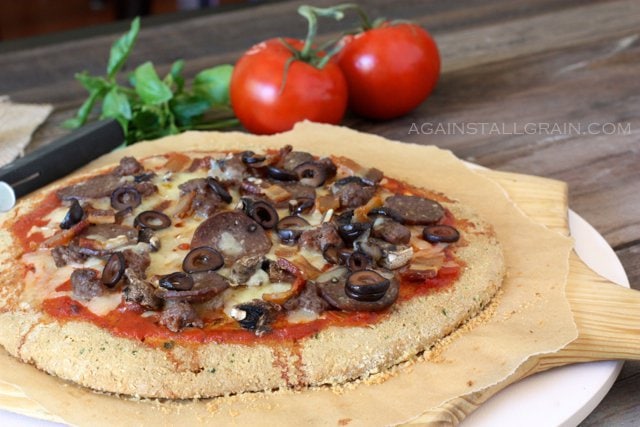 AUTHOR: Danielle Walker - AgainstAllGrain.com
SERVES: 4
Ingredients:
Crust
¾ cup whole raw cashews (or 1 cup cashew flour)
3 tablespoons almond flour
¼ cup coconut flour
½ teaspoon baking soda
½ teaspoon sea salt
dash teaspoon garlic granules
2 large eggs
2 tablespoons almond milk
½ teaspoon apple cider vinegar
2½ tablespoons extra-virgin olive oil
1 tablespoon cold water
1 tablespoon fresh parsley
2 tablespoons fresh basil
Pizza
Instructions:
Preheat oven to 350 degrees F.
In a food processor, pulse the cashews until a fine flour has formed.
Add in the almond flour, coconut flour, baking soda, salt, and garlic granules, then process the mixture for 30 seconds.
Add the eggs, almond milk, apple cider vinegar, olive oil, and water and process for another 30 seconds. Scrape down the sides of the bowl and pulse a few more times until you have a very smooth dough.
Add the parsley and basil, and pulse two more times to roughly chop and incorporate the herbs.
Let the dough rest for 2 minutes to let the coconut flour absorb some of the liquid. *It is a fairly wet dough, so don't be alarmed that it doesn't come together into a dense ball like most doughs.
Sprinkle a piece of parchment paper with a little almond flour, then turn the dough out onto the counter. Sprinkle a little more flour on the top of the ball of dough, then place another piece of parchment on top.
Use your hands to flatten the ball into a disc, then lightly roll out the dough into a circle that is 1/4 inch thick.
Remove the top piece of parchment and carefully by gently tugging from one corner. Slide the other piece with the crust onto a pizza pan. *If you can't remove the parchment without taking half of the dough with it, just bake the crust with the top piece intact. You can remove it once the crust has baked and before you add the toppings.
Bake the crust for 12 minutes, or until it has puffed up and is golden brown around the edges.
Top with marinara sauce, cheese, salami, sausage, bacon, mushrooms and olives and bake for another 10-15 minutes.
URL to article: https://againstallgrain.com/2012/08/07/meat-lovers-pizza/
Click here to print.
Copyright © 2014 Against All Grain. All rights reserved.