Danielle Walker's Against All Grain
Zucchini Noodles
Posted By Danielle Walker On July 30, 2012 @ 2:23 pm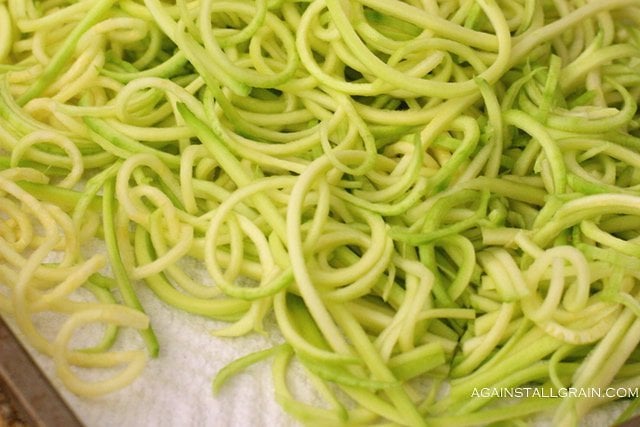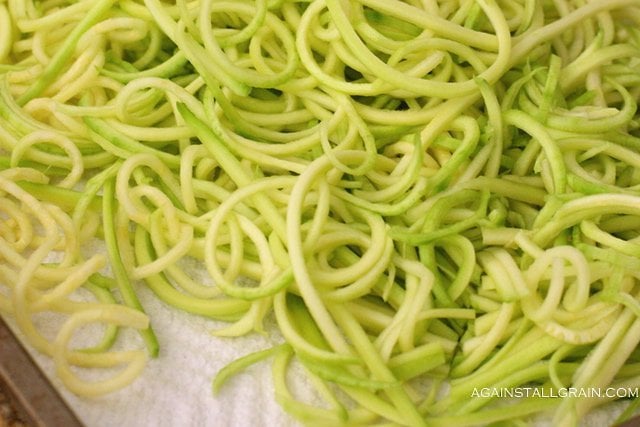 AUTHOR: Danielle Walker - AgainstAllGrain.com
Ingredients:
1 large zucchini squash per person
Spiral Slicer or Julienne Slicer (only $10, but won't make the continuous strands)
Cookie Sheet
Paper Towels
Sea Salt
Instructions:
Preheat your oven to 200 degrees.
Wash and peel your squash
Insert the ⅛-inch slicing disc into your spiral slicer. Place 1 squash on the prongs and line up the de-seeding hole in the middle of the end of the squash. Turn the crank until you've reached the end and have beautiful noodles!
Alternatively, use a julienne slicer to cut thin strands of zucchini. Once you've reached the seeds in the middle, flip the squash over and start again until you've reached the seeds from the other side. Discard the center portion with the seeds.
Place the noodles on a cookie sheet lined with paper towels. Sprinkle with salt.
"Sweat" the noodles in the oven for 30 minutes until the paper towels have absorbed most of the moisture that the zucchini let. Wrap the paper towels over the noodles and give them a good squeeze to extract any remaining liquid.*
The noodles will be dryer but not soft after step 6 so you will want to cook them further at this point. Add them into your sauce and let them simmer for about 10 minutes for al dente, or 15 for soft and silky.
*Zucchini hold a lot of moisture and will make dishes watery if you add them in uncooked. Step 6 step helps to avoid that.
URL to article: https://againstallgrain.com/2012/07/30/zucchini-noodles/
Click here to print.
Copyright © 2014 Against All Grain. All rights reserved.