Danielle Walker's Against All Grain
Heirloom Gazpacho with Bay Shrimp
Posted By Danielle Walker On July 25, 2012 @ 12:49 pm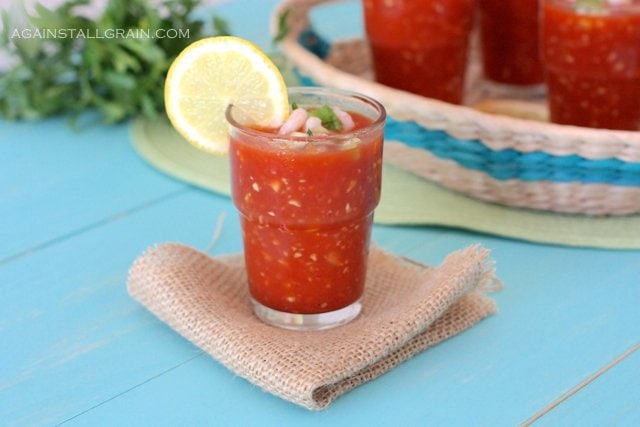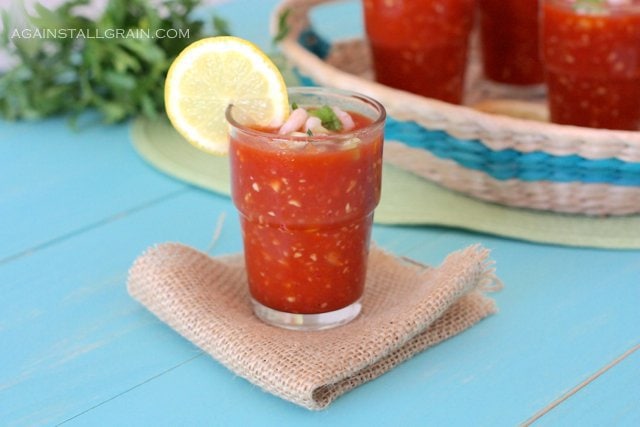 AUTHOR: Danielle Walker - AgainstAllGrain.com
Ingredients:
1 cucumber, peeled & seeded
1 pound heirloom tomatoes
½ red onion, peeled
3 garlic cloves, peeled
3 cups tomato juice
¼ cup red wine vinegar
¼ cup extra virgin olive oil
1½ teaspoons honey or sweetener of choice (helps cut the acidity)
3 tablespoons lemon juice
3 tablespoons parsley
½ teaspoon sea salt
dash cracked pepper
¼ teaspoon Tabasco sauce
½ cup bay shrimp, peeled and deveined (optional, remove for Vegan)
garnish: diced cucumber, red onion, lemon slices, and chopped parsley
Instructions:
Cut your vegetables into large chunks to make it easier for your food processor or blender to chop.
Place the tomato pieces, cucumber, onion, and garlic in the bowl of a food processor or in a large blender jar.
Pulse 3-4 times, until the vegetables are roughly chopped. Add half of the tomato juice, vinegar, olive oil, honey, lemon juice, seasonings and blend for 30 seconds until a smooth soup has formed. If you have a food processor large enough to hold all 3 cups of tomato juice, you can add it all at once.
Pour the remaining tomato juice into a large bowl, then incorporate your blended mixture. Check for seasonings, and adjust to your taste. My husband likes a little extra Tabasco, but I prefer less spice.
Chill in the refrigerator to let the flavors meld for a minimum of 4 hours, but preferably overnight.
Serve with fresh diced cucumber, red onion, lemon slices, parsley, and bay shrimp.
URL to article: https://againstallgrain.com/2012/07/25/heirloom-gazpacho/
Click here to print.
Copyright © 2014 Against All Grain. All rights reserved.