Danielle Walker's Against All Grain
Grilled Figs with Balsamic Glaze and Goat Cheese
Posted By Danielle Walker On July 18, 2012 @ 7:00 am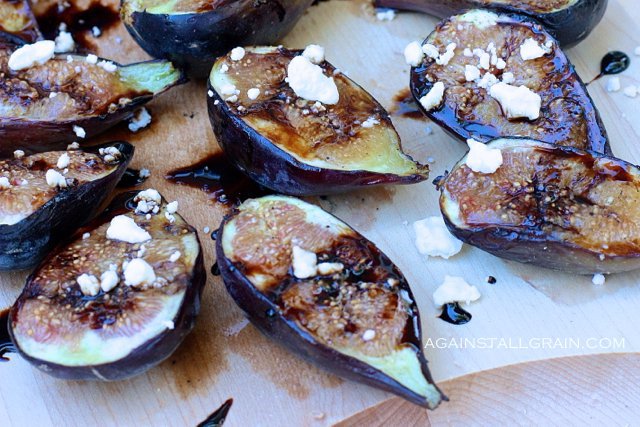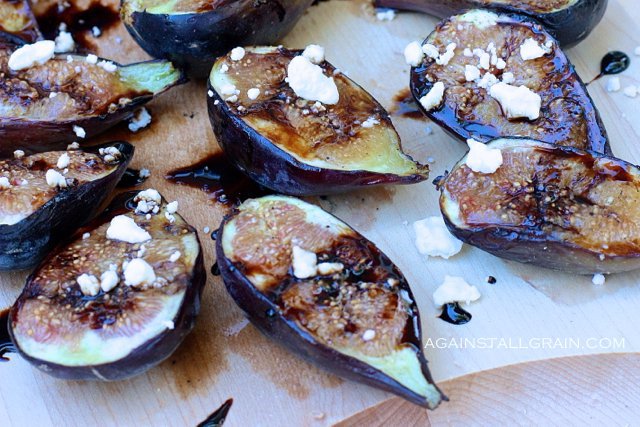 AUTHOR: Danielle Walker - AgainstAllGrain.com
Ingredients:
8 fresh black mission figs, halved
½ tablespoons extra virgin olive oil
¼ cup balsamic vinegar*
½ tablespoon honey
2 tablespoons crumbled goat cheese
*Make sure to find a good quality balsamic vinegar with no added sugar
Instructions:
Preheat your grill to medium-low heat, about 300 degrees.
Brush the inside half of the fig with the olive oil, then place them face down on the grill. Grill for 6-7 minutes, until they are slightly browned and soft to the touch.
Meanwhile, bring your vinegar to a boil in a saucepan set over medium-high heat. Reduce heat to medium and simmer for 15 minutes, until a syrup has formed.
Stir in the honey, whisking until incorporated. Remove from heat and let it thicken for 5 minutes.
Arrange the figs on a platter skin-side down. Drizzle with the glaze and goat cheese.
Serve hot.
URL to article: https://againstallgrain.com/2012/07/18/grilled-figs-with-balsamic-glaze-and-goat-cheese/
Click here to print.
Copyright © 2014 Against All Grain. All rights reserved.