Danielle Walker's Against All Grain
Greek Gyro Burger
Posted By Danielle Walker On July 11, 2012 @ 7:00 am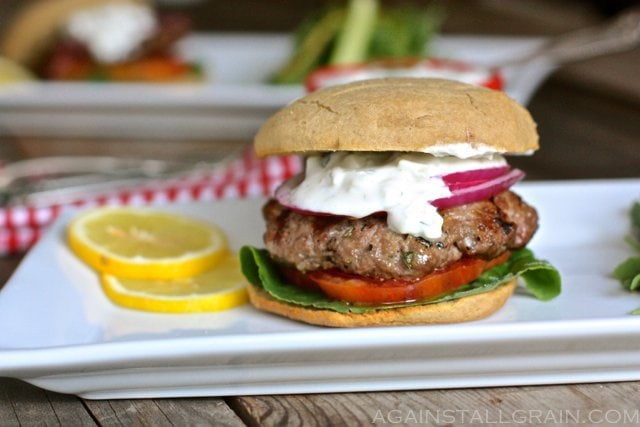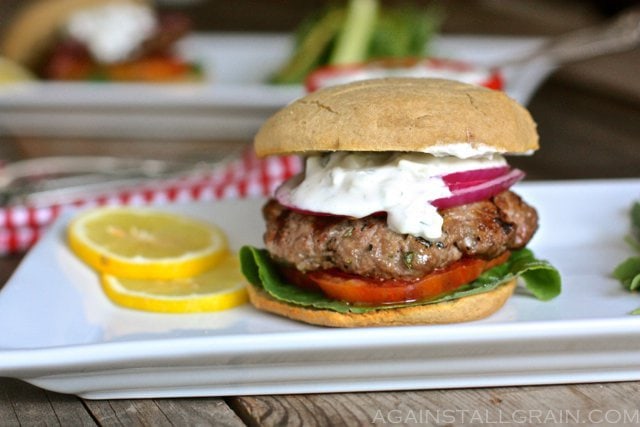 AUTHOR: Danielle Walker - AgainstAllGrain.com
SERVES: 4
PREP TIME: 20 mins
COOK TIME: 8 mins> TOTAL TIME: 28 mins
Ingredients:
For the burgers:
1 pound USWM ground lamb meat
1 teaspoon fresh rosemary, chopped
1 teaspoon fresh oregano, chopped
1 tablespoon lemon juice
2 garlic cloves, minced
1 tablespoon extra-virgin olive oil
1/2 teaspoon sea salt
1/8 teaspoon fresh ground pepper
1 tomato, sliced
1/2 red onion, thinly sliced
4 pieces of romaine lettuce
For the Tzatziki sauce:
Instructions:
In a large bowl, mix the meat with rosemary, oregano, lemon juice, garlic, olive oil, salt, and pepper. Let the meat sit at room temperature for 20 minutes prior to grilling to enhance the flavor of the seasonings.
Preheat your grill to medium-high heat.
Meanwhile, mix all of the ingredients for your tzatziki sauce in a medium bowl. Cover and place in the fridge until you are ready to serve your burgers.
Form the ground lamb mixture into four burger patties.
Grill the patties for 4 minutes on each side. They should have an internal temperature of 160 degrees for medium doneness.
Assemble your Gyro Burgers on your hamburger buns and top with red onion, tomato, lettuce, and a generous tablespoon of tzatziki sauce. Serve extra sauce on the side.
URL to article: https://againstallgrain.com/2012/07/11/greek-gyro-burger/
Click here to print.
Copyright © 2014 Against All Grain. All rights reserved.