Danielle Walker's Against All Grain
Lasagna with Homemade Grain-Free Noodles
Posted By Danielle Walker On June 29, 2012 @ 6:00 am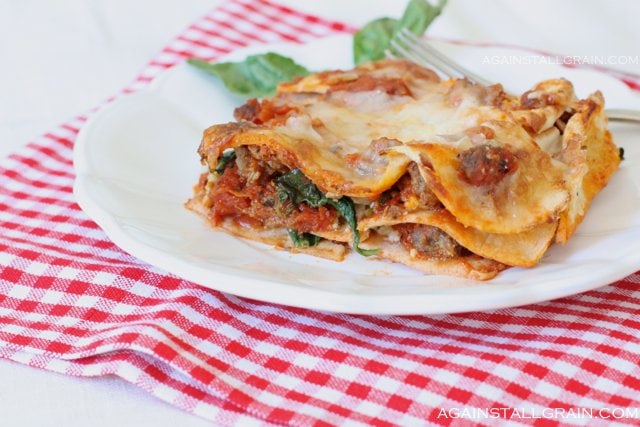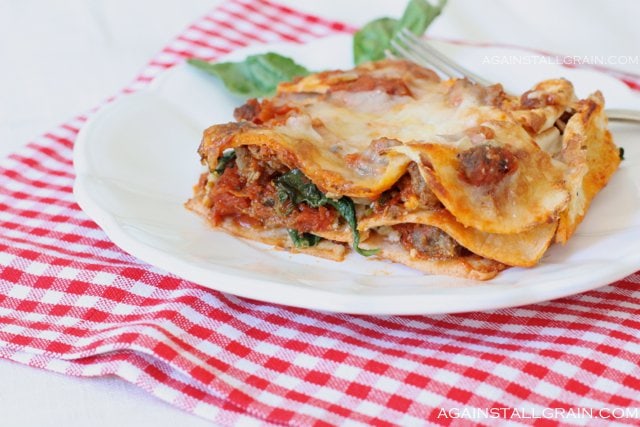 AUTHOR: Danielle Walker - AgainstAllGrain.com
SERVES: 6
Ingredients:
10 Grain-free Tortillas/Crepes, cut into 2-inch strips like lasagna noodles
1½ cups Marinara Sauce
½ pound Italian Beef Sausage, casings removed
2 cups baby spinach, sautéed in ½ tablespoon olive oil until wilted
1 cup grated provolone cheese
2 cups Dry Curd Cottage Cheese (I use Friendship Farmer's Cheese)*
3 tablespoons plain yogurt or almond milk*
¼ teaspoon salt
⅛ teaspoon pepper
1 tablespoon fresh parsley, chopped
1 tablespoon fresh basil, chopped
2 tablespoons grated Parmesan cheese
*You can use 2 cups ricotta in place of the dry curd cottage cheese and plain yogurt
Instructions:
Preheat your oven to 375 degrees.
Crumble the sausage into a skillet and brown over medium-high heat for 5-6 minutes until is cooked through. Pour in all but ⅛ cup of the marina sauce and simmer on low until you're ready to assemble your lasagna.
Mix the Farmer's cheese, yogurt, salt, pepper, parsley, and basil in a bowl.
Lightly grease the sides of an 8×11 baking dish. Pour the reserved ⅛ cup of marina sauce into the bottom of the dish.
Start by layering the strips of tortillas on the bottom, overlapping them ever so slightly so the fillings don't seep through the cracks. If they don't quite reach the edges of the dish, you can fill in the open spots with the scraps leftover from cutting them into strips.
Next, spoon in ⅓ of the "ricotta" cheese mixture and gently spread to cover the surface. Then put half of the spinach on top, then top that with a sprinkle of provolone, and lastly with ⅓ of the meat sauce.
Repeat until you've run out of ingredients going in this order: Noodles, ricotta, spinach, provolone, meat sauce. Finish with the remaining provolone and 2 tablespoons of parmesan cheese.
Bake uncovered for 20-30 minutes, until the cheese is melted and slightly browned on top and the corners are bubbling.
Let sit for 10-15 minutes before serving.
Enjoy!!!
*This was still just as tasty as leftovers 3 days later and wasn't the least bit soggy!
URL to article: https://againstallgrain.com/2012/06/29/grain-free-lasagna-with-noodles/
Click here to print.
Copyright © 2014 Against All Grain. All rights reserved.