Danielle Walker's Against All Grain
Black Forest Cupcakes with Whipped Cream Frosting
Posted By Danielle Walker On June 24, 2012 @ 7:00 am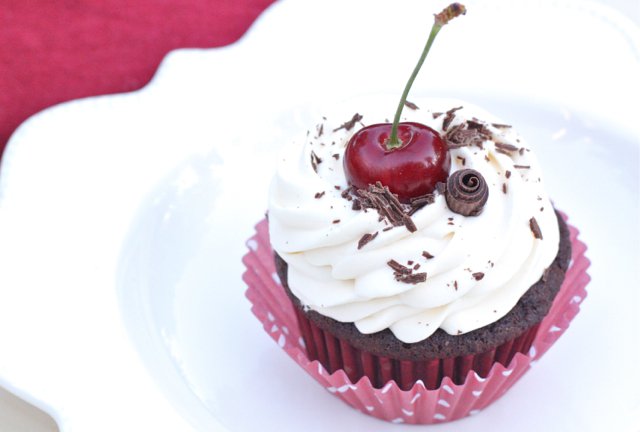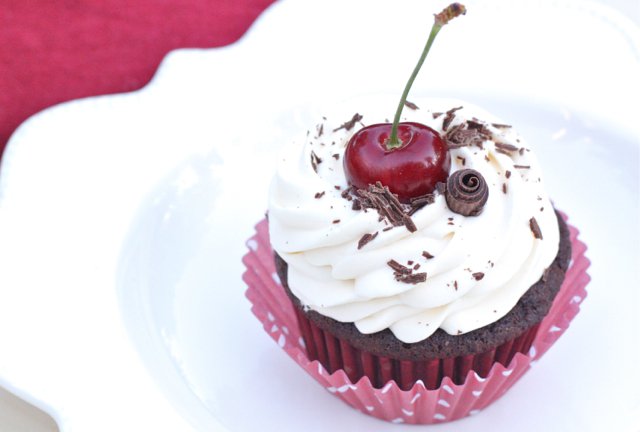 AUTHOR: Danielle Walker - AgainstAllGrain.com
Ingredients:
2 cups whipped cream (either coconut or raw dairy cream)
Cherry Compote Filling
Instructions:
Preheat your oven to 350 degrees and line a 12 cup muffin pan with cupcake liners.
In a food processor, process the eggs, melted coconut oil, honey, vanilla and coconut milk until fully combined.
Add the coconut flour, almond flour, cacao powder, baking soda, and salt and process again until smooth. Scrape down the sides of the bowl, then pulse a few more times to make sure everything is mixed well.
Add the whole cherries and pulse once or twice until they are roughly chopped. Stir in the chocolate chips by hand. Pour the batter into the prepared muffin pan, filling each cup to 3/4 full.
Bake for 12-15 minutes. These are dark so it's hard to tell when they are done by sight, but a toothpick should come out clean and the cake should bounce back when you press your finger gently into the top.
While the cupcakes are cooling, make your cherry compote by combining all of the ingredients in a saucepan over medium-high heat. Simmer for 15 minutes until the cherries are soft and much of the liquid has evaporated. It will still be pretty thin, but as it cools it will turn into a thicker syrup.
Using an apple corer or just a pairing knife, remove a quarter size piece from the top of the cupcake. Be careful not to cut too deep or you'll cut through the bottom and the filling will seep out.
Fill each cupcake with a tablespoon of the cherry filling, then pipe or spread the whipped cream over top.
*I used raw dairy cream for the photos but we've had them with coconut whipped cream and love them just as much. Coconut whipped cream doesn't hold up for very long after being whipped, so try to frost the cakes no more than 30 minutes prior to serving. 
URL to article: https://againstallgrain.com/2012/06/24/black-forest-cupcakes-with-whipped-cream-frosting/
Click here to print.
Copyright © 2014 Against All Grain. All rights reserved.