Danielle Walker's Against All Grain
Tuna Nicoise Salad
Posted By Danielle Walker On June 20, 2012 @ 7:00 am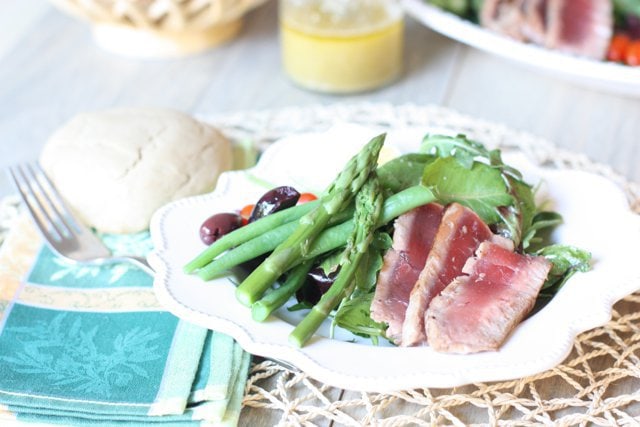 AUTHOR: Danielle Walker - AgainstAllGrain.com
Ingredients:
1 lb ahi tuna steak, good quality sushi grade
6 cups mixed lettuce (I used baby romaine, spinach, and a little arugula)
3 asparagus spears, trimmed and cut into 2 inch pieces
¼ pound green beans, trimmed
½ cup Niçoise or kalamata olives, pitted
1 tablespoon capers
½ cup grape tomatoes, halved
2 tablespoons fresh parsley, chopped
4 eggs, hard boiled and halved
¼ cup Lemon Herb Vinaigrette
Lemon Herb Vinaigrette
1 teaspoon chopped shallot
2 teaspoons dijon mustard
2 tablespoons red wine vinegar
juice of ½ of a lemon
2 garlic cloves, chopped
½ cup extra-virgin olive oil
¼ teaspoon herbs du provence
¼ teaspoon sea salt
⅛ teaspoon fresh ground pepper
2 teaspoons honey
Instructions:
Make your dressing first so the flavors can meld while you fix the rest of the salad ingredients.
Place all of the vinaigrette ingredients except for the olive oil in a food processor or blender and pulse until a paste forms. With the machine running, slowly drizzle in the oil until emulsified. Leave at room temperature until you're ready to assemble the salad.
Heat a skillet over medium-high heat. Rub the ahi steak with 2 tablespoons of the vinaigrette, then sear it in the skillet for 2 minutes on each side. You want the center to still be rare. Slice the tuna against the grain into very thin slices.
Bring a pot of water to a boil, then quickly blanch the asparagus and green beans for about a minute. Immediately plunge the vegetables into cold water to stop the cooking process. You can also steam the vegetables for a few minutes if that's easier for you. They should be slightly cooked but still crunchy.
To serve, pile the lettuce on a platter then surround it with the green beans, asparagus, olives, capers, tomatoes, eggs.
Drizzle ¼ cup of the vinaigrette over top and sprinkle with parsley.
URL to article: https://againstallgrain.com/2012/06/20/tuna-nicoise-salad/
Click here to print.
Copyright © 2014 Against All Grain. All rights reserved.