Danielle Walker's Against All Grain
Eggs Benedict Over Savory Waffles
Posted By Danielle Walker On June 17, 2012 @ 7:45 am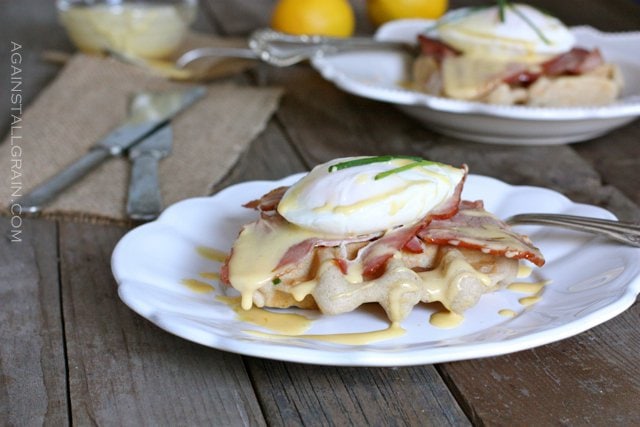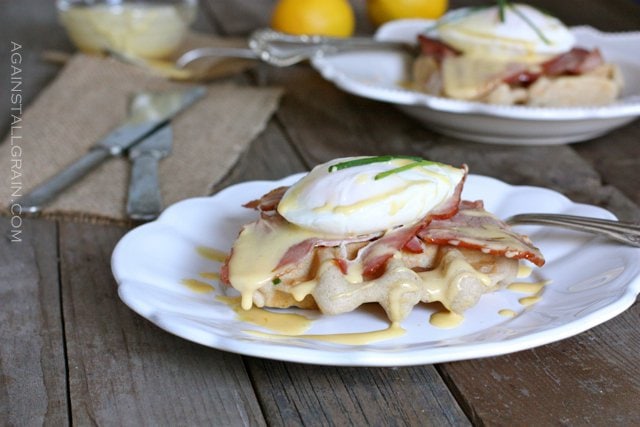 AUTHOR: Danielle Walker - AgainstAllGrain.com
Ingredients:
For the Waffles
3 eggs
¾ cup raw cashew butter (I love Artisana)
3 tablespoons almond milk
2 teaspoons bacon fat, melted
¾ teaspoon minced garlic
¼ teaspoon salt
¾ teaspoon baking soda
3 tablespoons coconut flour
1 piece of bacon, cooked and roughly chopped
2 chives, chopped
For the Benedict
4 Savory Waffles
4 slices cooked ham
4 eggs, poached
¼ cup Hollandaise Sauce (recipe to follow)
Chives for garnish
Hollandaise Sauce
2 egg yolks
¼ cup melted grassfed butter or Ghee, unsalted (for dairy-free, follow my recipe for Coconut Oil Hollandaise)
2 teaspoons lemon juice
¼ teaspoon salt
⅛ teaspoon paprika, or cayenne if you like a little heat
Instructions:
Preheat your waffle iron.
In a stand mixer, or using a handheld electric mixer, beat the eggs with the cashew butter, almond milk, bacon fat, and garlic.
Mix the salt, baking soda and coconut flour in a small bowl, then pour the dry ingredients into the wet mixture.
Beat for 30 seconds until the batter is fully incorporated, scraping the bottom of the bowl to make sure you get all of the sticky cashew butter.
Fold the chopped bacon and chives into the batter by hand.
Cook your waffles according to the instructions on your waffle iron, then keep them in a warm oven until you're ready to assemble the benedict.
Layer each waffle with a slice of ham, poached egg, drizzle of hollandaise, and a few chives.
*Every machine is different, so watch the waffles really carefully to ensure they don't burn. This batter will not take as long to cook as a regular waffles and will probably be done before your indicator light turns green. Once the steam stops, they are likely done. Mine takes about 30-45 seconds for each batch.
For the Hollandaise Sauce
Pour boiling water into a blender, then cover and let sit for 10 minutes. Dump out the water and dry the container thoroughly.
Blend the egg yolks with the lemon juice, salt, and paprika.
With the blender running on low, slowly pour in the hot melted butter. Blend for about 30 seconds until the sauce has thickened and the butter is well incorporated. The sauce will continue to thicken as it cools. *If it gets too thick, warm it over very low heat until it becomes runny again (about 10 seconds in a microwave and a minute on a low burner). Be careful not to use too high of heat or your eggs will scramble and your butter will curdle.
URL to article: https://againstallgrain.com/2012/06/17/eggs-benedict-over-savory-waffles/
Click here to print.
Copyright © 2014 Against All Grain. All rights reserved.