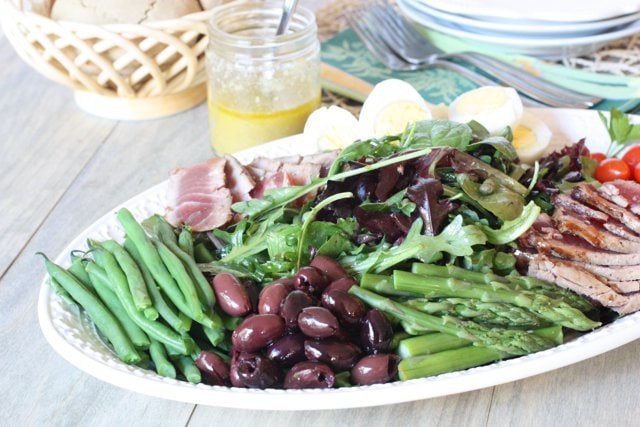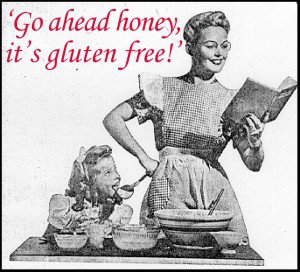 I can't believe we're already 6 days into June, and I am just now posting the announcement for June's Go Ahead Honey It's Gluten Free theme of Seasonal Salads! My days are filled with chasing a toddler around, cooking in between, and trying not to neglect my sweet husband in favor of working on this blog, so May was completely lost on me! It seems the months always pass before I'm ready and I usually realize we've moved into the next one when I see the roundups posted for the previous month's Go Ahead Honey, It's Gluten Free event. I always have the best of intentions to submit recipes each month, and almost always fail to do so. As this season of the event comes to a close, I only managed to participate in just one!
While I tried to come up with a unique theme related to some of the wacky US June holidays (Adopt-a-cat month, Turkey Lovers Month, Potty Training Awareness Month are just a few!), I landed on celebrating the National Fresh Fruit and Vegetables Month and doing a roundup of salads that use seasonal vegetables and fruits. I'm not only gluten-free, but grain-free as well, so salads were a great choice as they are often naturally grain-free! Produce varies around the world, so I want to see salads that highlight what is fresh and in season where you live. They can be hot or cold salads, and you are welcome to submit savory or sweet recipes! And, with the first day of Summer approaching us quickly, it will be great to collect some delicious fruit and veggie recipes to use over the coming months.
I'm honored to be hosting the closing month of this event (created by Naomi Devlin of Straight into Bed Cakefree and Dried) the 2011-2012 year amongst a list of the fabulous bloggers who have hosted previously. We saw Harry Potter based desserts from The WHOLE Gang, No Recipe Dishes from Gluten Free Easily, Healthy Chinese Food from The Daily Dietribe, Spiced Desserts from For the Love of Food, Thanksgiving Foods from Real Sustenance, Holiday Entertaining from Mrs Ed's Research, Foods that Heal from She Let Them Eat Cake, Valentines Dishes from Gluten-Free Cat, Fermented Foods from Nourishing Meals, Mother's Recipes from the Flip Cookbook, and Fictional Foods from Z's Cup Of Tea.
I'll be collecting your recipes over the next 4 weeks 3 weeks (SORRY!) and will post the roundup on July 1, 2012.
Here's How To Join In: 
Post a new recipe on your blog that highlights seasonal fruits or vegetables used in a salad and  indicate in the post that it is your submission for June 2012′s Go Ahead Honey, It's Gluten-Free. You are welcome to use the GAHIGF logo at the top of the page, but it isn't required. You must link back to this post to be included in the roundup. Please also make sure the recipe is gluten-free (bonus points for grain-free!).
The deadline to submit your recipe for Seasonal Salads is Saturday June 30th.

Email

the link to your blog post with "GAHIGF: Seasonal Salads" in the subject line and a photo of your recipe included as an attachment. You can also send a private message through my

Facebook Page

.
Don't worry if you're not a blogger! You can still participate by

emailing me

 and following the same instructions as above. Just include the recipe and photo as an attachment or typed in the email body.
The round-up of all your recipes will be published on July 1, 2012. I'm excited to see what you all come up with! I'll be sharing a few of my favorite summertime salads soon!