Danielle Walker's Against All Grain
Berry Tart with Dairy-Free Vanilla Bean Custard
Posted By Danielle Walker On June 2, 2012 @ 11:38 am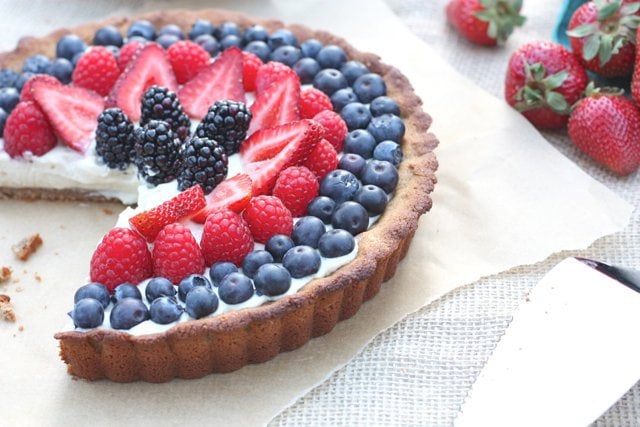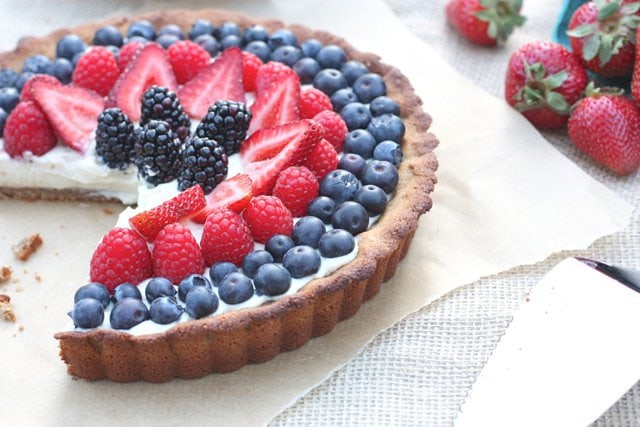 AUTHOR: Danielle Walker - AgainstAllGrain.com
SERVES: 8
Ingredients:
Crust
Custard
½ tablespoon unflavored gelatin
1 tablespoon water
1 cup almond milk (or any other non-dairy milk)
¼ cup honey
1 vanilla bean, seeds scraped and bean reserved
3 egg yolks
1 cup coconut cream (cream that has risen to the top from a cold can of coconut milk)
3 cups mixed berries (I used strawberries, blackberries, blueberries, and raspberries)
Instructions:
Soften the gelatin by placing it in a bowl with the 1 tablespoon of water.
Heat the almond milk, seeds from the vanilla bean, and the bean shell over medium-high heat for 2-3 minutes.
Whisk the egg yolks and honey in a separate bowl, then slowly pour the heated milk mixture into the bowl while whisking constantly.
Return the mixture to the pan and heat for 2-3 minutes while whisking the entire time. Pour in the softened gelatin, and whisk until it is dissolved. Continue heating for another 5 minutes until the custard has thickened and will coat the back of a spoon.
Pour the custard into a bowl and press a piece of plastic wrap directly on top to avoid a skin from forming. Place in the refrigerator and chill for about 5 hours or overnight.
Preheat oven to 350 degrees.
Place the pecans in a food processor and process until you have a coarse flour. Add the almond flour, salt, baking soda, cinnamon, nutmeg, butter/coconut oil, honey, egg, and vanilla and pulse until a ball of dough forms.
Using the palms of your hands, press the dough into the bottom and up the sides of a tart pan with a removable base. Cut a circle of parchment paper and lightly press it onto the bottom of the crust. Fill the bottom with pie weights or a cup of beans, then bake for 10 minutes. Remove the beans and parchment, then bake for another 5 minutes. Cool the crust while you make the custard.
Remove the custard from the fridge and pour in the cup of thick coconut cream from the top of 1 can of coconut milk. Using an electric hand mixer or stand mixer, whip the custard until thick and creamy. If your coconut cream is super thick (this will depend on which brand you use), you can add in a tablespoon of the coconut water to help thin it out a bit.
Spread the custard into the cooled pie crust then chill the tart for an hour to let the custard set up.
Arrange your berries in a circular pattern then serve immediately, or keep in the fridge until your ready to serve.
URL to article: https://againstallgrain.com/2012/06/02/berry-tart-with-dairy-free-vanilla-bean-custard/
Click here to print.
Copyright © 2014 Against All Grain. All rights reserved.