Danielle Walker's Against All Grain
Summertime Arugula, Fennel, and Citrus Salad
Posted By Danielle Walker On June 1, 2012 @ 6:00 am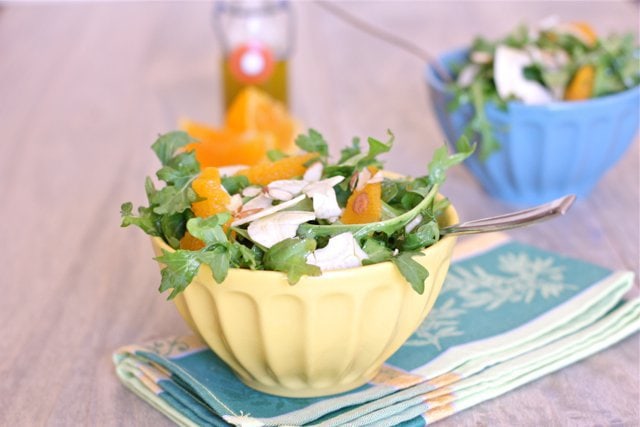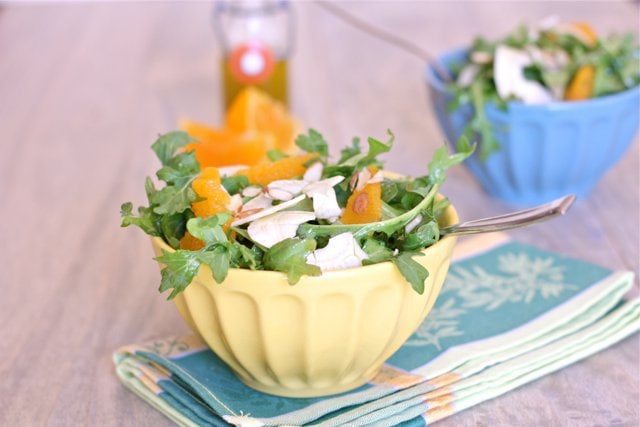 AUTHOR: Danielle Walker - AgainstAllGrain.com
SERVES: 4
Ingredients:
6 cups arugula
2 large oranges
1 fennel bulb, stems and leaves removed then thinly sliced
1/4 cup slivered almonds
salt and pepper
Citrus Dressing
1/8 cup fresh orange juice
1 tablespoon honey
1/8 cup apple cider vinegar
1/2 cup extra virgin olive oil
Instructions:
First, segment your oranges and remove the membranes. Using a sharp knife, cut off the top and bottom of the orange. Then cut down the sides to remove the peel and the white bitter pith. Using a pairing knife, separate the orange segments from the membranes. Do all of this over a bowl so you can catch the fresh juice that will inevitably spill out from the orange. There's also quite a bit of juice left in the membranes, so squeeze it in your palm to release the rest.

Mix all of the dressing ingredients, except for the olive oil. In a constant, slow stream, begin to whisk in the oil until well incorporated. I actually throw it all into one of my husbands 

blender bottles

 with the wire ball and shake it up for a few minutes. It works so well for dressings!

Combine the arugula, orange slices, fennel, and slivered almonds in a bowl. Pour about 1/4 cup of the dressing over the salad and sprinkle a pinch of salt and ground pepper over the top then toss to mix.

I love serving this along side grilled fish and fresh summer vegetables. Enjoy!
If you've never segmented an orange before, watch a tutorial on YouTube to see how it's done. It's super easy and makes the orange slices melt in your mouth since they've been separated from the tougher membrane.
URL to article: https://againstallgrain.com/2012/06/01/summertime-arugula-fennel-and-citrus-salad/
Click here to print.
Copyright © 2014 Against All Grain. All rights reserved.