Danielle Walker's Against All Grain
French Toast with Grilled Bananas
Posted By Danielle Walker On May 25, 2012 @ 6:00 am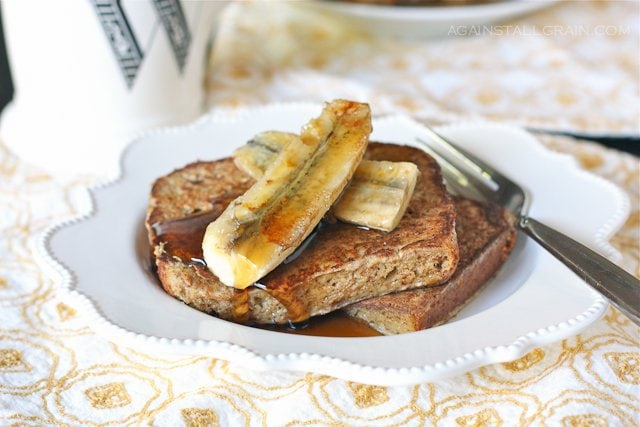 AUTHOR: Danielle Walker - AgainstAllGrain.com
SERVES: 8 slices
Ingredients:
Instructions:
Slice the loaf into 8 thick slices. The loaf doesn't stand very tall, so for bigger pieces like in the photos, cut the loaf in half to make 2 squares, then slice into 8 slices lengthwise.
In a shallow pan, whisk together the eggs, milk, spices, and vanilla.
Heat a little coconut oil in skillet over medium0-high heat.
Dip each slice in the batter letting it sit on each side for 30 seconds so the bread can soak up the mixture a bit.
Pan fry each slice for 1 minute on each side, or until slightly browned and crispy on the outside. I like to press them down with a spatula to push some of the egg mixture out of the bread so they are not too soggy on the inside.
Once you've cooked all of the slices, add the banana slices to the same pan and cook for a couple of minutes until they are caramelized on one side.
Serve the french toast with the grilled bananas and drizzled with honey or maple syrup.
URL to article: https://againstallgrain.com/2012/05/25/french-toast-with-grilled-bananas/
Click here to print.
Copyright © 2014 Against All Grain. All rights reserved.