Danielle Walker's Against All Grain
Paleo Pad See Ew
Posted By Danielle Walker On May 19, 2012 @ 6:00 am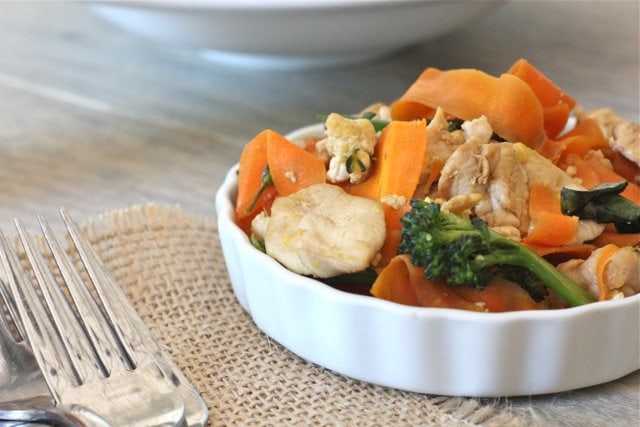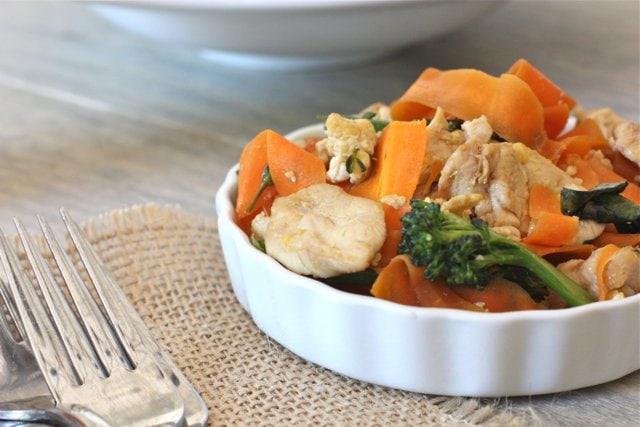 AUTHOR: Danielle Walker - AgainstAllGrain.com
SERVES: 6
Ingredients:
6 garlic cloves, peeled and minced
1 pound chicken breast, boneless and skinless
2 tablespoons oil (I prefer olive oil for the taste with this dish, but coconut will work too)
3 cups broccoli rabe florets and leaves (or chinese broccoli)
10 carrots, peeled
⅓ cup coconut aminos (the verdict is still out on whether this is SCD legal, so use with caution if you're SCD)
1 ½ tablespoons coconut sugar (sub honey for SCD or omit for Whole30)
2 eggs
Instructions:
Lay your peeled carrots flat on a cutting board and use a Y-peeler to create very thin but wide ribbons. A regular vegetable peeler will work too, a Y-peeler is just easier to use when the carrot is flat. You basically just continue peeling the carrot after you've removed the outer dirty skin.
Slice the chicken very thinly on a diagonal. Warm the oil in a deep saute pan or wok over medium heat, then add the garlic and chicken and saute for 5 minutes until the chicken is white on the outside.
Add the broccoli, coconut aminos, and coconut sugar, and continue cooking for 5 minutes until the broccoli has softened a bit. Add the carrot ribbons and cook for 5 more minutes.
Push the stir-fry aside in the pan, then crack the 2 eggs into the pan and stir vigorously to scramble them. Let them cook for a minute or so until they have firmed up, then mix everything back together.
Serve with Tom Kha Gai, Thai Yellow Curry with Prawns, and an ice cold Thai Iced Tea. Enjoy!
URL to article: https://againstallgrain.com/2012/05/19/paleo-pad-see-ew/
Click here to print.
Copyright © 2014 Against All Grain. All rights reserved.