Danielle Walker's Against All Grain
Tom Kha Gai {Thai Coconut Soup}
Posted By Danielle Walker On May 11, 2012 @ 8:09 am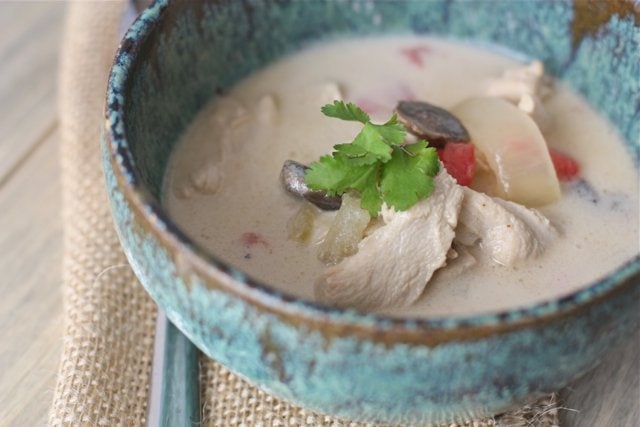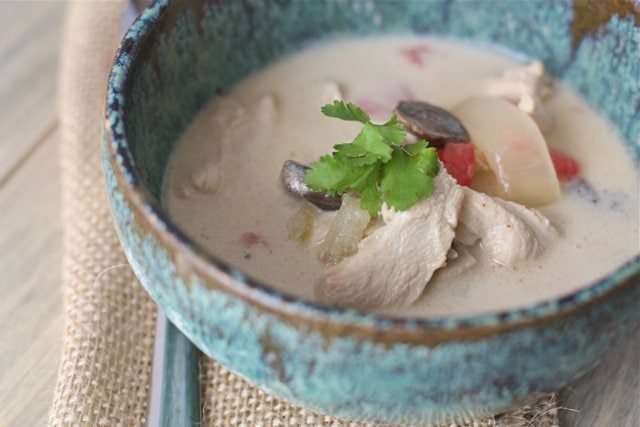 AUTHOR: Danielle Walker - AgainstAllGrain.com
Ingredients:
½ tablespoon coconut oil
⅛ teaspoon Thai dried chiles, finely ground*
½ cup chicken stock
2 cans full fat coconut milk
2 inch piece of Galangal, skin on and thinly sliced (fresh Ginger will work too)*
1 stalk lemon grass, sliced diagonally into 3-4 pieces and slightly bruised/flattened with a mallet or butt of a knife*
4 tablespoons fish sauce
2 cups chicken breast, very thinly sliced
1 cup white button mushrooms, sliced
2 tablespoons lime juice
½ tablespoon coconut sugar (honey will work too, but coconut sugar will taste the most authentic or omit for Whole30)
8 cherry tomatoes, sliced in half
fresh cilantro and scallions for serving
*All of the starred items can be purchased dried in a jar by the brand Thai Kitchen
Instructions:
Melt the coconut oil in a soup or stock pot, then add the ground chiles and stir for 1-2 minutes until fragrant.
Pour in the coconut milk and bring to boil.
Add the chicken stock, galangal, lemon grass, kaffir leaves, fish sauce, and chicken and simmer for 10 minutes until the chicken is cooked through.
Add the mushrooms, lime juice, coconut sugar, tomatoes and simmer for another 5 minutes until the vegetables are tender but not mushy.
Serve with fresh cilantro and scallions.
URL to article: https://againstallgrain.com/2012/05/11/tom-kha-gai-thai-coconut-soup/
Click here to print.
Copyright © 2014 Against All Grain. All rights reserved.