Danielle Walker's Against All Grain
Stovetop to Oven Skillet Cobbler
Posted By Danielle Walker On May 8, 2012 @ 6:00 am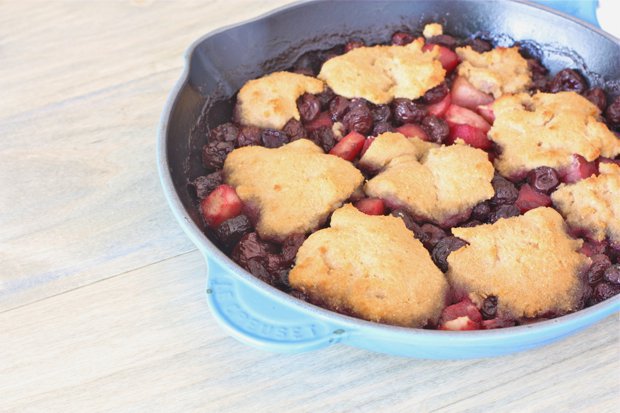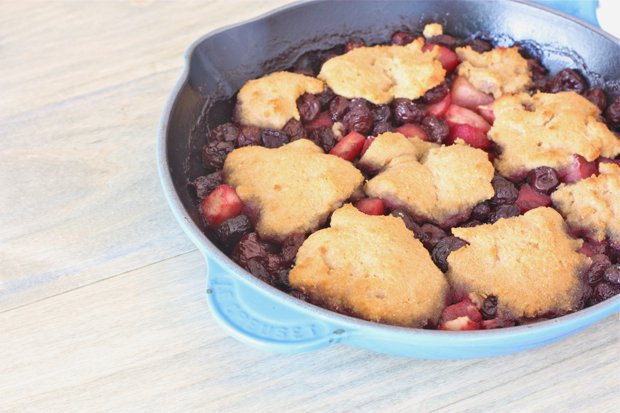 AUTHOR: Danielle Walker - AgainstAllGrain.com
SERVES: 6
Ingredients:
1 teaspoon coconut oil
3 cups cherries, pitted (if frozen, defrost and drain of juices)
1 cup blueberries, fresh or frozen
1 Bartlett pear, peeled and diced
2 teaspoons lemon juice
2 tablespoons honey
1/4 teaspoon salt
1 teaspoon fresh ginger, grated
1/2 teaspoon cinnamon
1/2 tablespoon coconut flour
Cobbler Topping
Instructions:
Preheat your oven to 400 degrees Fahrenheit.
Spread 1 teaspoon of coconut oil on the bottom of an oven safe skillet and up the sides. Heat the pan over medium heat, then add the fruit, lemon juice, honey, ginger, cinnamon, salt, and cinnamon.
Let the fruit cook down for about 15 minutes until the juices are bubbling and have reduced by half.  Stir in the coconut flour, then continue to cook for another minute.
While the fruit is cooking, assemble your cobbler dough. Combine the dry ingredients in a bowl, and the wet in a separate bowl. Incorporate the wet into the dry and stir until just combined.
Take small balls of the dough in your hands and flatten them into discs about 1/2 inch thick. The dough will be sticky, so don't worry about them being perfect.
Remove the skillet from the stove, and place the dough discs on top of the fruit in a circular pattern, covering as much surface area as possible.
Bake the cobbler in the preheated oven for 10-12 minutes until the batter is cooked through and slightly browned on top.
Serve immediately with a generous scoop of coconut milk vanilla ice cream. Enjoy!
URL to article: https://againstallgrain.com/2012/05/08/stovetop-oven-skillet-cobbler/
Click here to print.
Copyright © 2014 Against All Grain. All rights reserved.