Danielle Walker's Against All Grain
Paleo Fish Tacos
Posted By Danielle Walker On May 3, 2012 @ 7:06 am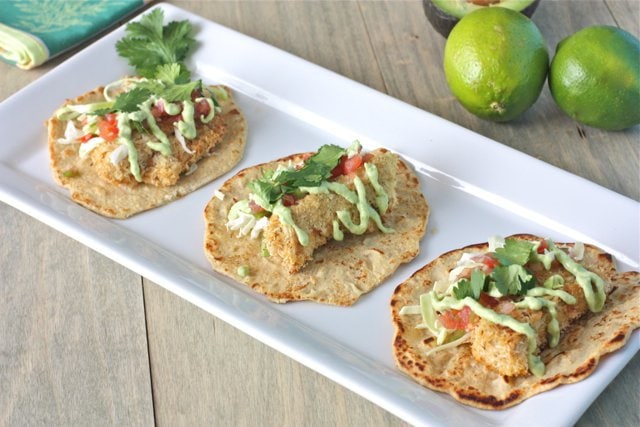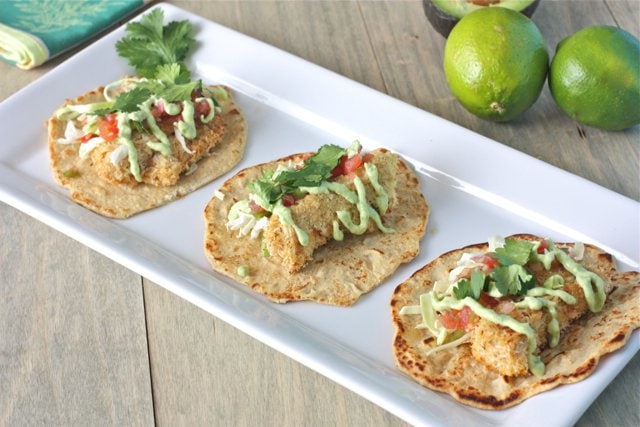 AUTHOR: Danielle Walker - AgainstAllGrain.com
SERVES: 4-6
Ingredients:
Tortillas
6 egg whites or about ¾ cup
3½ tablespoons coconut flour
4 tablespoons almond milk
½ teaspoon sea salt
½ teaspoon ground cumin
½ teaspoon chili powder
¼ teaspoon garlic salt
Fish
1 pound fresh cod, bones and skins removed
¼ cup lime juice
1 teaspoon salt
1 teaspoon cumin
1 tablespoon chili powder
1 cup shredded reduced fat coconut + 1 teaspoon sea salt
1 egg, beaten
Toppings
Shredded cabbage
Fresh cilantro
lettuce cups for serving instead of tortillas if desired
Instructions:
Marinate the fish in the lime juice, salt, cumin and chili powder for 6-8 hours.
Preheat your oven to 350 degrees.
Mix all of the tortilla ingredients in a small bowl. Let the batter sit for 10 minutes so the coconut flour can soak up some of the moisture, and then whisk again. The batter should be runnier than that of pancakes, about the same as a crepe batter.
Heat a cast iron or non-stick skillet over medium high heat and spray with olive oil or melted butter. Pour the batter into the pan in a circular motion, making the tortilla about the size of a pancake. Give the pan a little turn with your wrist a few times to help the batter spread out evenly and into a thin layer. Keeping the tortillas thin and small helps to make sure the egg taste doesn't overpower the tacos.
Let the tortilla cook on the first side for about a minute until it starts to firm up. There won't be air bubbles like when you're cooking a pancake. Loosen the sides with a spatula then slide it under and flip the tortilla over. If you can't get your spatula under, try cooking it just a little longer. Cook on the second side for 30 seconds, then remove and set aside on a plate. Continue cooking the remaining batter, spraying the pan in between.
Remove the fish from the marinade, and slice it into pieces 4 inches long and about 1 inch wide. Toss the pieces in the egg first, then coat with the coconut and salt.
Place the fish pieces on a tray lined with parchment paper, then bake at 375 degrees for 5 minutes on each side. Turn on the broiler, and toast each side for a minute to crisp up the breading.
Assemble each taco with a piece of fish, pico de gallo, avocado cream, cabbage, and cilantro. Serve with some fresh lime wedges.
Enjoy!
URL to article: https://againstallgrain.com/2012/05/03/paleo-fish-tacos/
Click here to print.
Copyright © 2014 Against All Grain. All rights reserved.