Danielle Walker's Against All Grain
Pico De Gallo and Avocado Crema Salsa
Posted By Danielle Walker On April 30, 2012 @ 7:49 pm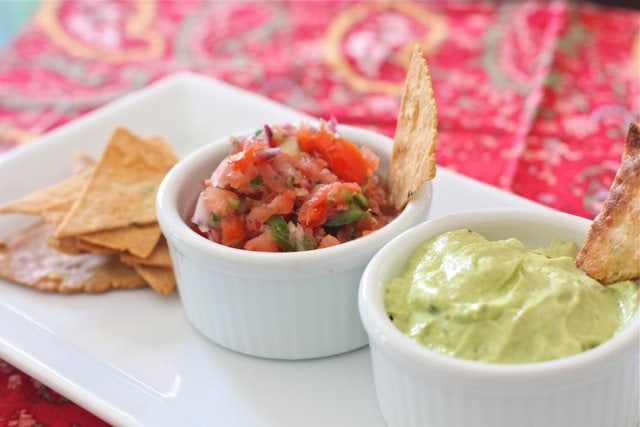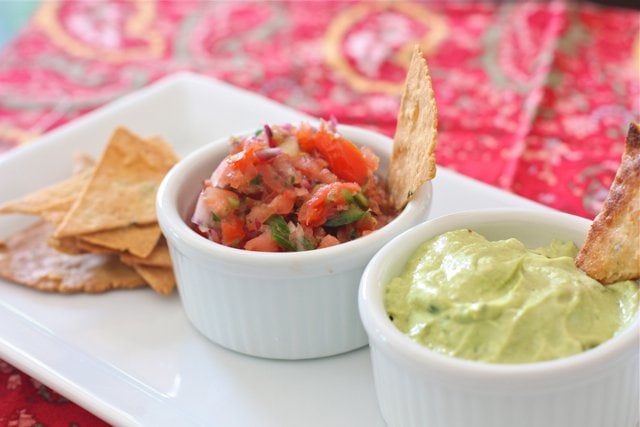 AUTHOR: Danielle Walker - AgainstAllGrain.com
Ingredients:
Dairy-Free Avocado Crema (makes about 1/2 cup)
1/2 cup raw cashews
3 cups water
1 small avocado
1 jalapeno, seeded for a mild flavor
1/8 cup lime juice
1/8 teaspoon cayenne pepper
1/2 teaspoon salt
Pico De Gallo (makes about 1 cup)
1 medium tomato, cut into chunks
1/4 medium red onion, cut into large chunks
1 tablespoon fresh cilantro
2 garlic cloves, peeled
1/2 jalapeno, seeded
1/2 teaspoon sea salt
Instructions:
For the Crema
Soak the raw cashews in boiling water for 30 minutes, or room temperature water for 6 hours.
Drain the cashews, but reserve their soaking water. Blend the cashews with 1/4 cup of the water until you have a smooth and thick cream. Add a tablespoon more water at a time if it is too thick after blending.
Puree 1 small avocado with 1/4 cup of the cashew cream, jalapeno, lime juice, cayenne pepper, and salt.
For the Pico
Add all of the ingredients to a food processor and pulse a few times until everything is roughly chopped. Easy as that!
URL to article: https://againstallgrain.com/2012/04/30/paleo-taco-sauces/
Click here to print.
Copyright © 2014 Against All Grain. All rights reserved.