Danielle Walker's Against All Grain
Savory and Sweet Crackers (with Almond Flour)
Posted By Danielle Walker On April 20, 2012 @ 3:12 pm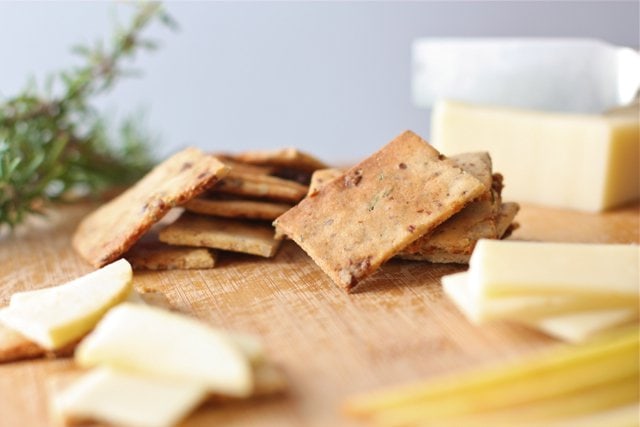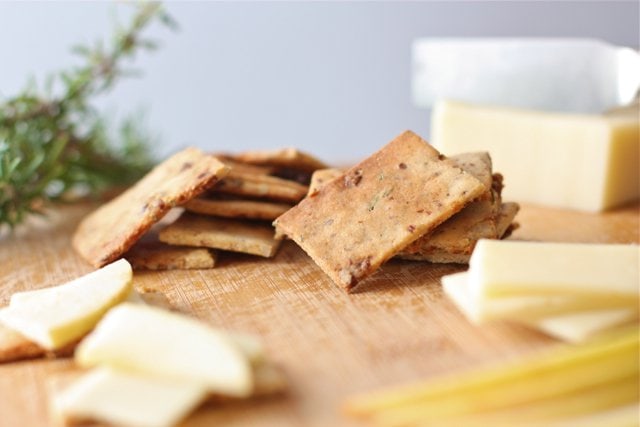 AUTHOR: Danielle Walker - AgainstAllGrain.com
SERVES: about 20 crackers
Ingredients:
1 cup blanched almond flour
½ tablespoon olive oil
2 tablespoons cold water
½ teaspoon sea salt
2 tablespoons raisins
3 teaspoons raw sunflower seeds
1 sprig rosemary
Instructions:
Preheat your oven to 350 degrees Fahrenheit.
Place all of the ingredients, except for 1 teaspoon of sunflower seeds, in a food processor and grind until combined thoroughly. Add the remaining 1 teaspoon of sunflower seeds, and pulse once until they are roughly chopped. You should have a fairly lumpy dough where you can see bits of raisins and sunflower seeds.
Remove the dough and form it into a ball with your hands. Place the ball between two sheets of parchment paper, then roll the dough to a ⅛ inch thickness with a rolling pin.
Remove the top sheet of parchment. Use a pizza cutter to cut the dough into one large square, then into smaller squares. Save the scraps and re-roll it to get more crackers. Carefully transfer the parchment piece to a cookie sheet.
Bake for 15 minutes, rotating the pan once, until golden. Let cool on a wire rack for 15 minutes, then carefully break the crackers apart.
Alternatively, dehydrate on a low setting for 24 hours. Flip the crackers over half way through.
Store in an airtight container at room temperature for a couple of weeks. These probably won't last that long in your house though!
URL to article: https://againstallgrain.com/2012/04/20/savory-and-sweet-crackers-with-almond-flour/
Click here to print.
Copyright © 2014 Against All Grain. All rights reserved.