Danielle Walker's Against All Grain
Hunger Games Lamb Stew with Dried Plums
Posted By Danielle Walker On April 13, 2012 @ 10:47 pm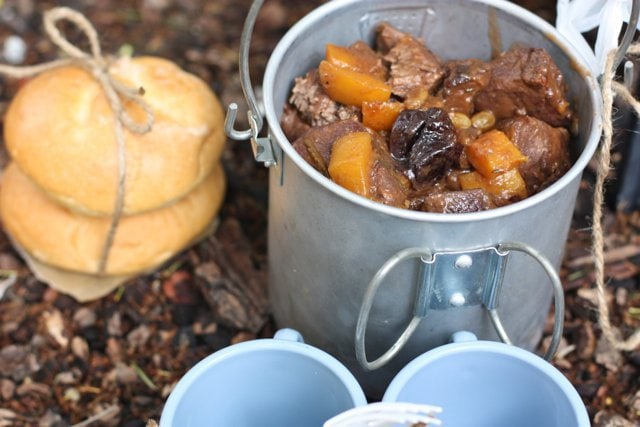 AUTHOR: Danielle Walker - AgainstAllGrain.com
SERVES: 4
Ingredients:
1-1/2 pounds lamb top round roast – trimmed of fat and cut into 2 inch cubes
2 tablespoons olive oil
2 carrots, peeled and cut into thirds
1 yellow onion, peeled and thickly sliced
1 cup dry red wine
2 cups low sodium chicken stock
2 garlic cloves, crushed
2 sprigs fresh thyme
1 bay leaf
1 sprig rosemary
1 sprig fresh parsley
½ tablespoon tomato paste (this one is SCD legal)
1 cup butternut squash, cubed
½ cup dried plums, halved
2 tablespoons golden raisins
2 teaspoons sea salt
½ teaspoon freshly ground pepper
Instructions:
Preheat oven to 350 degrees Fahrenheit.
In a dutch oven or large cast iron pot, heat the olive oil over medium-high heat.
Thoroughly dry the lamb with paper towels, then working in batches, brown the meat in the olive oil on all sides – about 5-7 minutes. Remove the lamb, then set aside.
Add the onions, garlic, and carrots, and saute for 2-3 minutes. Pour in the wine, chicken stock and tomato paste. Stir while you pour in the liquid to remove the bits at the bottom of the pan.
Bring to a boil, then return the lamb to the pot. Add the bay leaf, rosemary, parsley, and thyme.
Cover and place in the preheated oven for 1 hour, stirring only once half way through. Don't lift the lid other than once, so the braising liquid stays hot and the steam stays trapped inside to ensure tender meat.
Remove the pot from the oven, then carefully remove all of the onions and carrots and ⅓ of the pan juices. Discard the carrots, or keep them for another use. Set the onions and juices aside for later.
Add the butternut squash, plums, raisins, salt and pepper to the pan, then return it back into the oven for an additional 20 minutes.
Meanwhile, place the reserved onions and ⅓ cup pan juices in a blender and process until smooth and thick. Keep covered and warm until the stew comes out of the oven.
Pull the stew from the oven, and remove the herb sprigs. Stir in the onion puree.
URL to article: https://againstallgrain.com/2012/04/13/hunger-games-lamb-stew-with-dried-plums/
Click here to print.
Copyright © 2014 Against All Grain. All rights reserved.