Danielle Walker's Against All Grain
I'll Make You Banana Pancakes, Pretend Like It's The Weekend Now…
Posted By Danielle Walker On April 5, 2012 @ 12:43 pm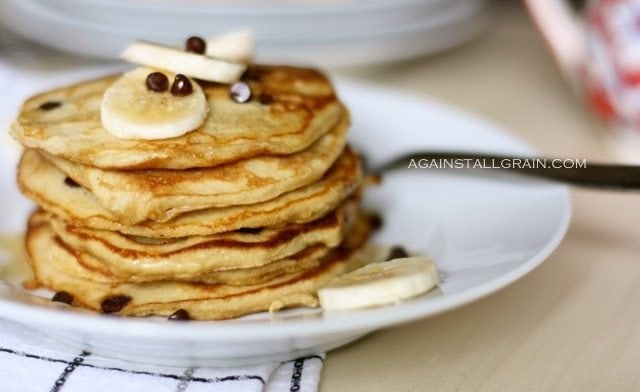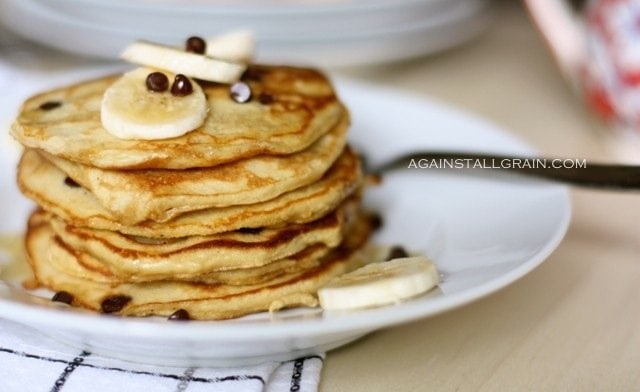 AUTHOR: Danielle Walker - AgainstAllGrain.com
SERVES: 8-10 small pancakes
Ingredients:
Instructions:
Mix together the wet ingredients, beating well until the eggs are beaten and slightly foamy.
Combine the dry ingredients in a separate bowl, then incorporate them into the wet. Whisk well until combined, then let sit for 3-5 minutes to let the coconut flour soak up some of the moisture.
Heat a cast iron (or non-stick) pan over medium-high heat. You can also use a griddle to make more pancakes at once. Mix the batter again, then begin making your pancakes.
Oil the pan with coconut oil or butter, then pour about a ¼ cup of batter per pancake. The pancakes are easier to flip if you keep them small, about 4 inches in diameter.
Once the pancake begins to bubble, place a couple of slices of banana and a pinch of chocolate chips on top.
Carefully flip the pancake over, and cook for another minute until the pancake has fluffed up an feels slightly firm.
Keep hot in a warm oven until you are done making the remainder of the pancakes.
These are best eaten immediately, but if you have leftovers you can warm them in a toaster the next day.
Notes
NUT-FREE NOTE – I have recently had success substituting finely ground and sifted sunflower seed 'flour' for the almond flour in this recipe making them nut-free! Everything in the recipe stays as is except I add a little extra honey to compensate for the sweetness that came from the almonds. Take raw (meaning not roasted or salted or oiled or anything) sunflower seed kernels and grind them until you've reached a fine flour. Then push it through a mesh sieve or a sifter to remove any coarse pieces and measure the ⅓ cup from there. I store it in the fridge and use it 1:1 for almond flour. Beware though, the chemical reaction with baking soda and the chlorophyll in the seeds will turn baked goods green. Read more about it and how to counteract it here. It takes about 15 min to react and our pancakes are devoured by then so I don't alter the recipe at all. Guess it's turning green in my stomach!
URL to article: https://againstallgrain.com/2012/04/05/grain-free-pancakes/
Click here to print.
Copyright © 2014 Against All Grain. All rights reserved.