Danielle Walker's Against All Grain
Cream of Mushroom Soup (SCD, Paleo, Vegan Option)
Posted By Danielle Walker On March 22, 2012 @ 10:26 pm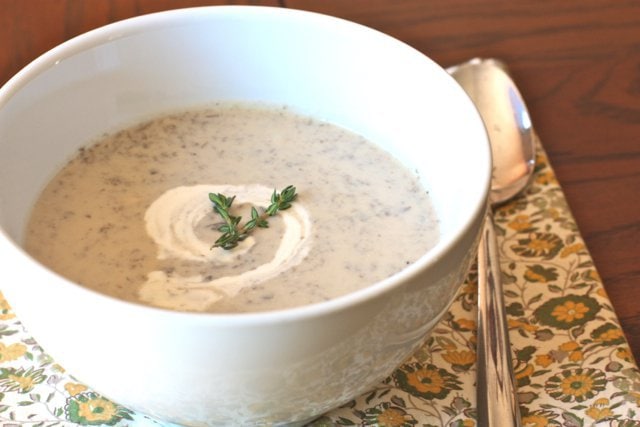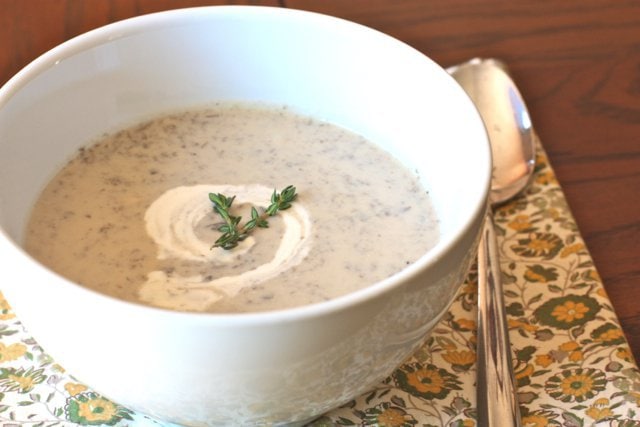 AUTHOR: Danielle Walker - AgainstAllGrain.com
Ingredients:
2 tablespoons salted butter, olive oil, or soy-free butter replacement
½ pound crimini mushrooms, chopped
1 shallot, chopped
1 clove garlic, chopped
⅛ cup sherry cooking wine (omit for SCD)
3 cups vegetable broth, low sodium
2 teaspoons sea salt
½ teaspoon pepper
½ teaspoon dried thyme
¾ cup cashew cream (recipe to follow)
For the cashew cream:
Instructions:
Saute the mushrooms, shallot and garlic over medium heat for 10 minutes, until the liquid has mostly evaporated.
Pour in the cooking wine, then bring to a boil and wait until it has reduced by half, about 5 minutes.
Pour in the vegetable broth, salt, pepper, and thyme. Simmer for 5 minutes then add the cashew cream.
Use an immersion blender and pulse a few times to incorporate the cashew cream. If you like your soup less chunky, continue blending until the mushrooms are smooth. Alternatively, add the soup to a blender and blend until desired consistency. Be careful when blending hot liquids, it has the tendency to splatter.
Serve with a little drizzle of truffle oil and fresh thyme.
Cashew Cream:
Soak 1 cup of raw cashews in 3 cups boiling water for 30 minutes.
Drain the cashews, but reserve the soaking water.
Place the cashews in a blender with 3/4 cup of the soaking water and blend until smooth. It should be a similiar thickness of a greek yogurt. If it's too thick, add a little water at a time to get your desired consistency.
URL to article: https://againstallgrain.com/2012/03/22/cream-of-mushroom-soup-scd-paleo-vegan-option/
Click here to print.
Copyright © 2014 Against All Grain. All rights reserved.