Danielle Walker's Against All Grain
Spinach, Butternut Squash and Pesto Pizza on Cauliflower Crust
Posted By Danielle Walker On March 13, 2012 @ 8:14 pm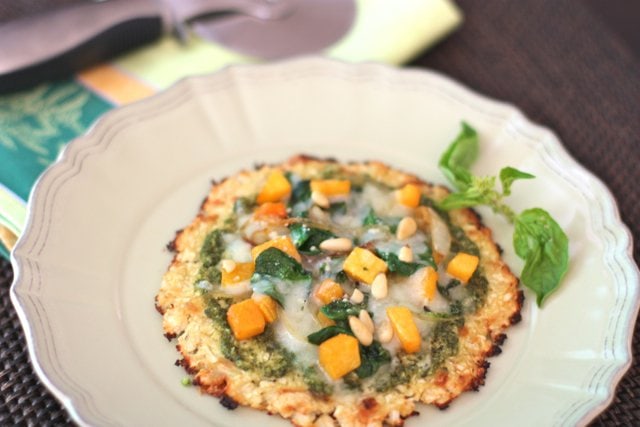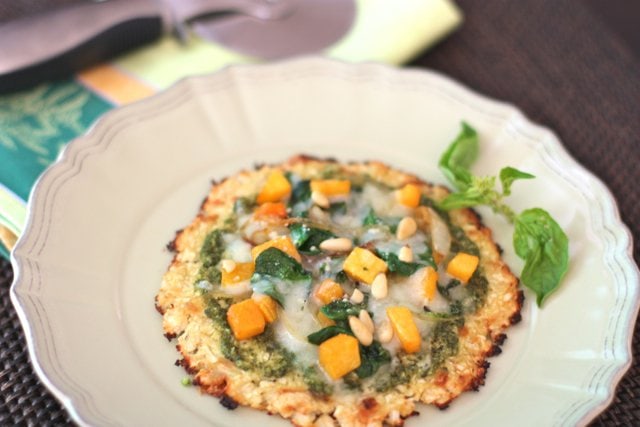 AUTHOR: Danielle Walker - AgainstAllGrain.com
SERVES: 2 8in pizzas
Ingredients:
1 recipe for Cauliflower Crust
½ medium yellow onion, thinly sliced
2 tablespoons virgin olive oil
1 teaspoon honey
½ teaspoon salt
½ cup butternut squash, diced (see tutorial HERE)
½ cup fresh baby spinach
¼ cup Pesto Sauce
¼ cup Gruyere Cheese
2 teaspoons raw pine nuts
Instructions:
Preheat oven to 450 degrees.
Pre-bake your crusts for 12-15 minutes, until the edges have browned.
Over medium heat, sauté the onion, honey, and salt in 1 tablespoon of olive oil. Stir occasionally for about 10 minutes, until onions have softened.
Add the remaining olive oil, then add the squash to the pan and continue to cook for 5-7 minutes, until vegetables are cooked through.
Add the spinach, and cook for 2 minutes until the spinach has slightly wilted.
Spoon the pesto sauce onto the crusts, then layer with the vegetable mix and finish with the cheese.
Sprinkle each pizza with 1 teaspoon pine nuts. Place under the broiler for 2-3 minutes, until cheese has melted.
URL to article: https://againstallgrain.com/2012/03/13/spinach-butternut-squash-and-pesto-pizza-on-cauliflower-crust/
Click here to print.
Copyright © 2014 Against All Grain. All rights reserved.