Danielle Walker's Against All Grain
Tostadas with Cranberry Black Beans and Avocado Crema
Posted By Danielle Walker On March 10, 2012 @ 7:00 am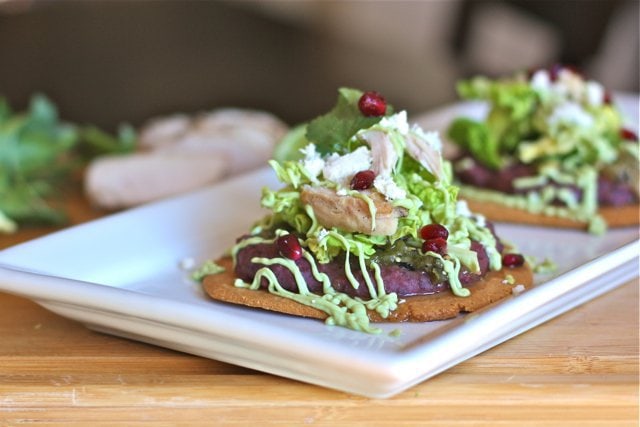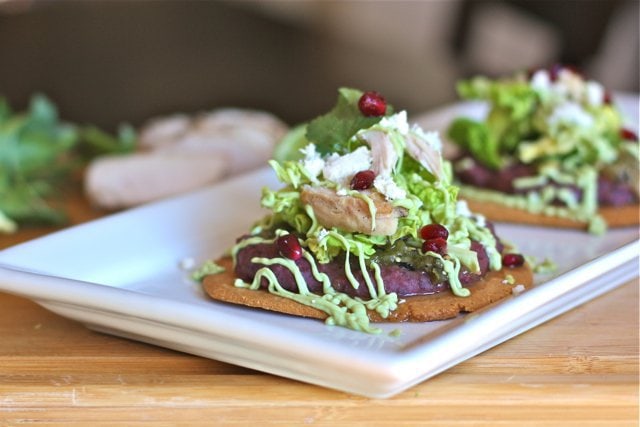 AUTHOR: Danielle Walker - AgainstAllGrain.com
Ingredients:
Tostada Shells
1 + ¼ cup almond flour
½ teaspoon sea salt
1 tablespoon virgin olive oil
1 egg
¼ teaspoon baking soda
½ teaspoon cilantro, chopped
½ teaspoon lime juice
Re-fried Cranberry Black Beans
4 cups water
2 cups soaked and cooked black beans (canned will work too)
1 cup cranberries (frozen or fresh)
1 teaspoon salt
3 tablespoons butter or olive oil
Toppings
¼ cup Avocado Crema
¼ cup tomatillo salsa, or any store bought roasted tomatillo salsa
2 cups shredded green cabbage
1 cup cooked chicken breasts (optional)
2 tablespoons pomegranate seeds
¼ cup cojita cheese
2 tablespoons cilantro, chopped
Instructions:
Make the Shells
Combine all of the ingredients in a bowl and mix until a dough forms.
Divide the dough into four balls then place on a piece of parchment paper. Place another piece of parchment over the balls, then roll each ball out into a circle to ¼ inch thickness. Use a pizza cutter to trim the jagged edges to make them round. If you save your scraps, you can make 5 shells.
Bake at 350 degrees for 20 minutes, flipping once. Cool on a wire rack.
Alternatively, heat ¼ cup of oil over medium-high heat. Working one at a time, fry each shell on both sides until crisp. Drain on a paper towel.
Make the Beans
Combine the black beans, cranberries, and water to a boil. Simmer for 10 minutes, until the cranberries have softened and broken open.
Reserve ½ cup of the cooking liquid, then drain the beans and cranberries. Place them in a food processor or blender, and slowly add the liquid while it is running until the beans and cranberries are smooth.
Melt the butter in a skillet over medium-high heat, then quickly add the pureed beans. Cook over medium heat, stirring occasionally, for 10 minutes or until the majority of the liquid has been absorbed and the beans hold their shape without running. Season with salt.
Layer the Tostadas
Layer each shell in this order: Beans, Salsa, Cabbage, Chicken, Avocado Crema, Pomegranate Seeds, Cojita, and Cilantro. Garnish with a lime wedge.
URL to article: https://againstallgrain.com/2012/03/10/tostadas-with-cranberry-black-beans-and-avocado-crema/
Click here to print.
Copyright © 2014 Against All Grain. All rights reserved.