Danielle Walker's Against All Grain
Meat Lovers Pizza with Cauliflower Crust and Giveaway Winner Announced
Posted By Danielle Walker On March 7, 2012 @ 7:00 am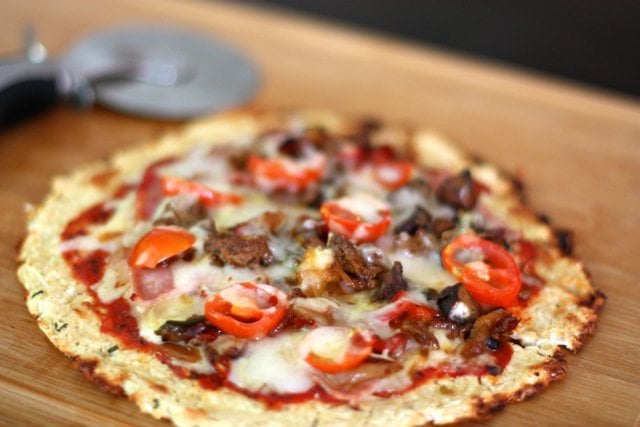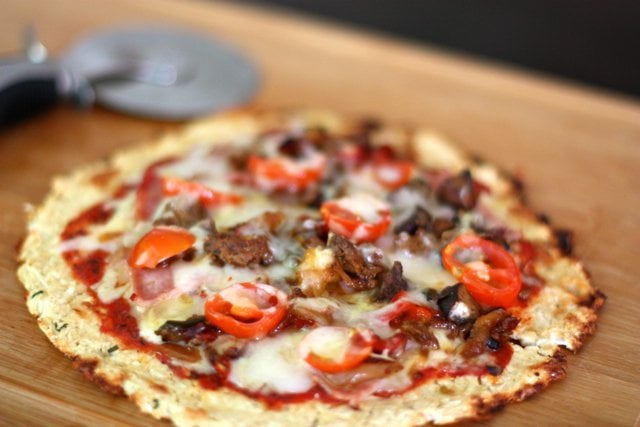 AUTHOR: Danielle Walker - AgainstAllGrain.com
SERVES: 4
Ingredients:
½ head cauliflower, about 2 cups grated
½ cup + 2 tablespoons freshly grated Parmesan cheese
1 garlic clove, crushed
¼ teaspoon sea salt
½ tablespoon fresh basil, chopped
1 egg
2 tablespoons coconut flour
1 tablespoon virgin olive oil, for brushing the tops
½ teaspoon garlic salt, for sprinkling on top
Toppings
½ cup marinara sauce
¼ cup turkey chorizo sausage (or any store bought sausage)
2 ounces bacon (nitrate-free)
2 tablespoons crimini mushrooms, chopped
¼ cup red bell peppers, thinly sliced
¼ cup yellow onions, thinly sliced
¼ cup diced tomatoes
½ cup cheddar cheese or provolone cheese
Instructions:
Preheat your oven to 450 degrees.
Trim the cauliflower and remove the stems. Place in your food processor and pulse until the florets are finely "riced." You can also grate the cauliflower with a cheese grater.
Place in a steamer placed over an inch or 2 of water, and steam until just tender but not fully cooked. Don't let the cauliflower touch the water, it will absorb too much of the water and make a soggy crust.
Combine the cauliflower, cheese, garlic, salt, basil, egg, and coconut flour in a bowl. Mix until combined.
Form two 8 inch circles with the dough on a piece of parchment paper. The "dough" will be pretty loose until it is cooked, so use your hands to form it into a circle and lightly press with your palms until it is ½ inch thick. Brush with olive oil and sprinkle with garlic salt.
Bake at 450 degrees for 15 minutes, or until slightly browned around the edges.
Warm a tablespoon of olive oil over medium-high heat. Saute the sausage, bacon, mushrooms, peppers, and onions until the meat is cooked through and the vegetables are slightly soft.
Let the crust cool slightly, then add the toppings and place under the broiler for 5-6 minutes until the cheese is melted.
URL to article: https://againstallgrain.com/2012/03/07/meat-lovers-pizza-with-cauliflower-crust/
Click here to print.
Copyright © 2014 Against All Grain. All rights reserved.