Danielle Walker's Against All Grain
Dark Chocolate Hazelnut Meringue Cookies
Posted By Danielle Walker On March 3, 2012 @ 7:00 am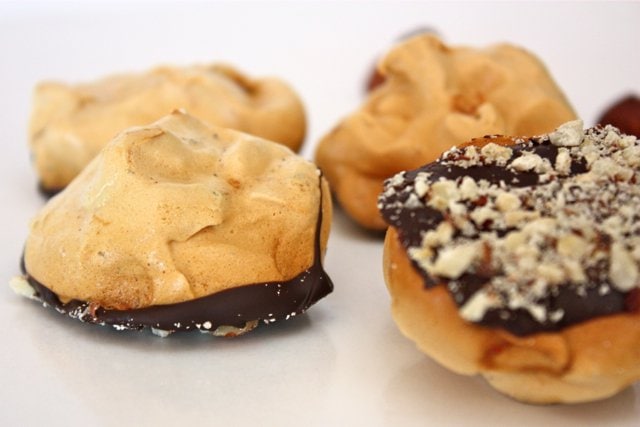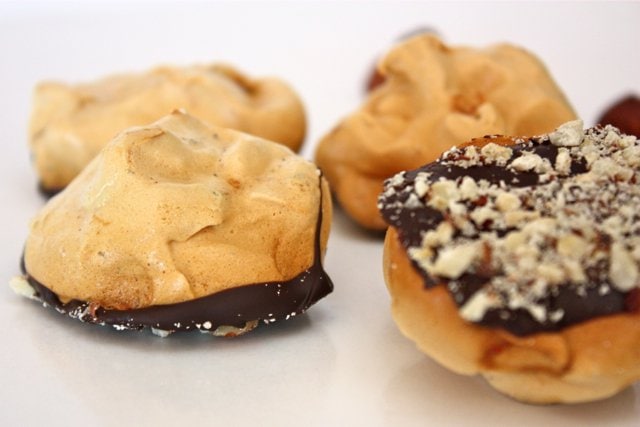 AUTHOR: Danielle Walker - AgainstAllGrain.com
Ingredients:
2 large egg whites, about 4 tablespoons
1/2 cup honey
pinch of sea salt
1 teaspoon ice water
3/4 cup raw hazelnuts, toasted and finely chopped
4 ounces dark chocolate, melted
Instructions:
Bring 2 inches of water to a simmer in a saucepan.
In a heatproof mixing bowl, combine the egg whites, honey, and pinch of salt.
Place the bowl over the simmering water, careful not to let it touch the water. Whisk the egg whites constantly for 3-5 minutes, until they are warm to the touch.
Remove from the heat, then transfer the mixing bowl to your stand mixer. Immediately begin whipping on high.
Pour in the teaspoon of ice water, then keep beating on high until thick and glossy, about 5 minutes.
Fold in 1/2 cup of the hazelnuts, keeping the remaining 1/4 cup for dipping at the end.
Drop the batter by heaping tablespoons onto a parchment lined cookie sheet, or pipe with a pastry tip.
To Bake (note: the cookies will get a little darker in color in the oven)
Bake at 175 for 1.5 hours until the meringues are dry to the touch but not brown, then turn the oven off and let them cool with the oven door closed for another hour.
To Dehydrate
Dehydrate meringues at 135 degrees for 4 hours. Turn the dehydrator off, then with the door closed, let them cool and harden for 1 hour.
Once the cookies have cooled, hold them by the tips and dip the bottoms on the dark chocolate. Then dip them in the remaining chopped hazelnuts, and let sit at room temperature for an hour or so until the chocolate has hardened.
URL to article: https://againstallgrain.com/2012/03/03/dark-chocolate-hazelnut-meringue-cookies/
Click here to print.
Copyright © 2014 Against All Grain. All rights reserved.