Danielle Walker's Against All Grain
Chile Verde Chicken Enchiladas
Posted By Danielle Walker On January 23, 2012 @ 8:00 am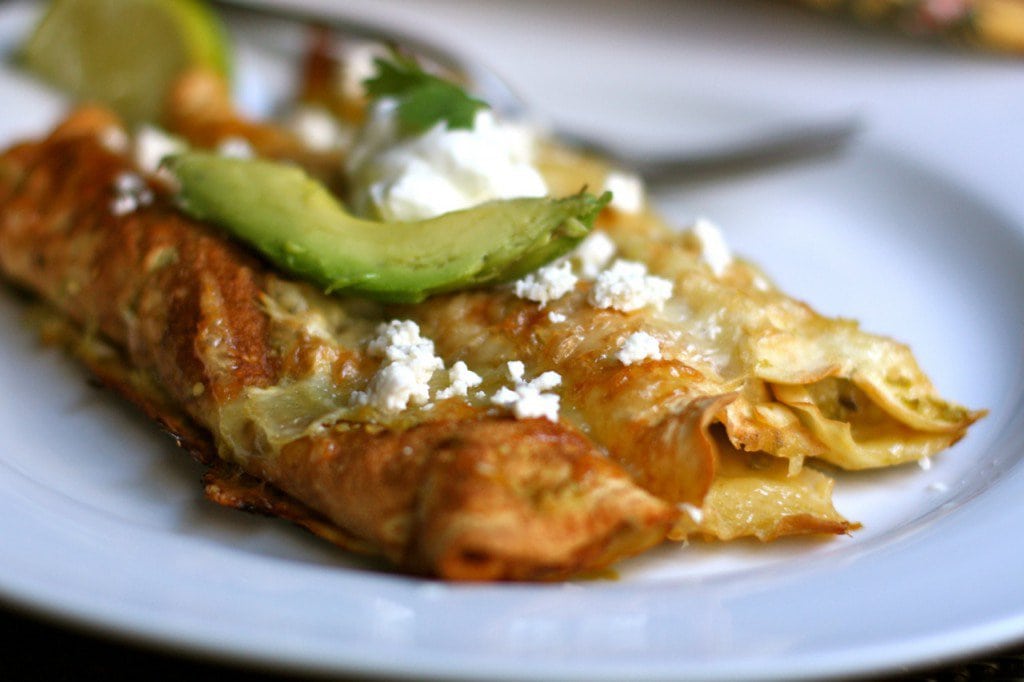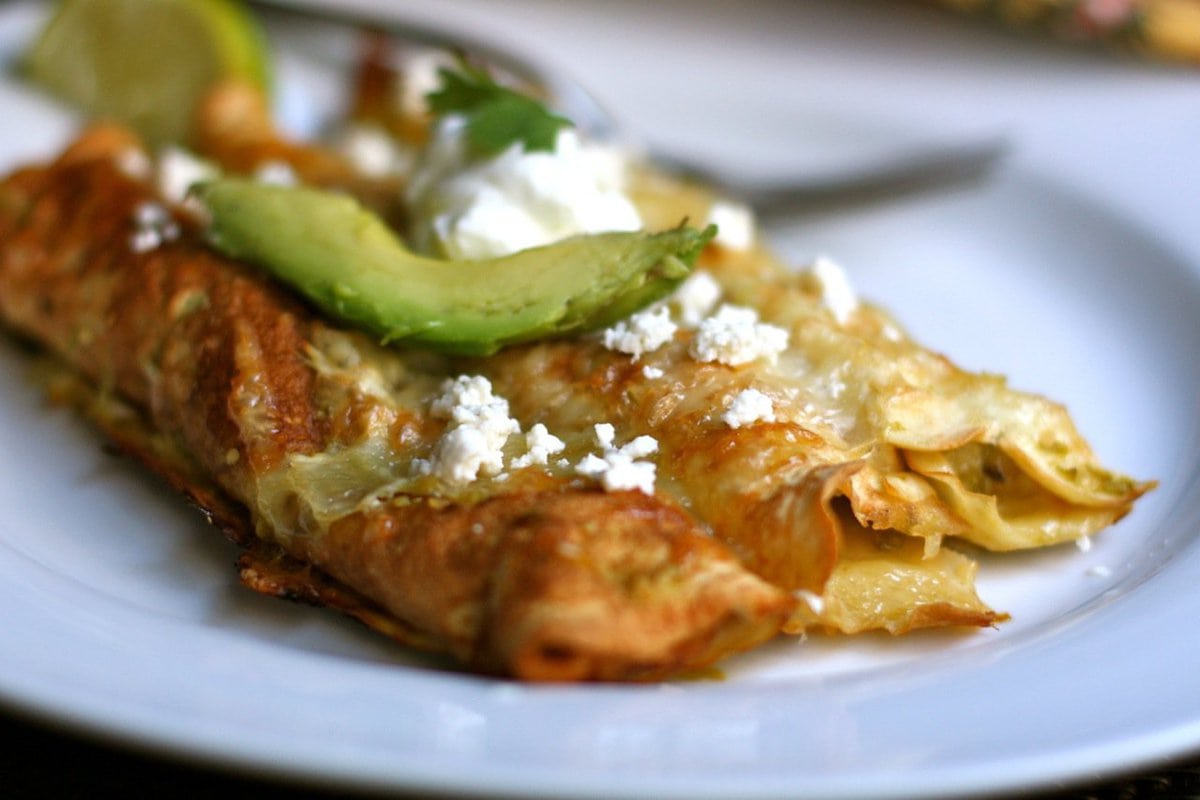 AUTHOR: Danielle Walker - AgainstAllGrain.com
Ingredients:
For the chicken
1 lb. chicken breasts
2 tablespoons ghee, grassfed butter, or olive oil
¼ yellow onion (finely chopped)
1 garlic clove, chopped
1 teaspoon sea salt
For the sauce
1.5 lb. tomatillos, husked and rinsed
1 Serrano chili
1 small Poblano pepper (roasted, then seeds and skin removed)
3 garlic cloves, chopped
⅛ cup ghee, grassfed butter, or olive oil
1 tablespoon sea salt
For the enchiladas
2 tablespoons oil
1 cup shredded raw grassfed cheese (I prefer pepperjack or jack)
8-10 Grain Free Tortillas
½ cup cashew sour cream
½ cup crumbled Queso Fresco
Instructions:
For the chicken
Heat 2 tablespoons oil in a deep skillet. Saute onions and garlic until soft.
Add the chicken breasts seasoned with 1 teaspoon of salt, browning each piece on both sides.
Set aside until sauce is finished.
For the sauce
In a saucepan, combine the tomatillos and Serrano chilies with enough water to cover. Bring to a boil over medium-high heat, and cook for 15 minutes.
Roast the Poblano chili under the broiler and turn until all sides are blackened. Remove from oven and place in a plastic bag for 15 minutes (the steam in the bag will help to remove the skin). Remove the chili from the bag and peel the skin off. Cut it in half, and remove all of the seeds. Place the chili in a food processor.
Drain the tomatillos, garlic, and chilies and add to a food processor. Process until a smooth sauce forms.
Heat the oil in the saucepan until smoking. Quickly add the tomatillo sauce, stirring constantly, until the sauce bubbles. Reduce the heat to low and cook until the sauce starts to thicken, about 5 minutes more. Add the 1 Tbs. salt.
Add the chicken to the sauce and simmer for 45 minutes until it is cooked through.
Remove chicken and shred on a cutting board.
Remove 1 cup of the sauce and reserve on the side.
Add the chicken back to the sauce and adjust seasonings to your liking. Leave on low while you assemble the enchiladas.
For the enchiladas
Preheat oven to 350 degrees.
Fill each tortilla with chicken mixture and a pinch of cheese. Roll up and carefully flip the roll over so the seam is down.
Place into a greased casserole dish. Continue with the remaining tortillas, placing them close together in the dish. If you have extra chicken or broken tortillas, you can use them to fill in the sides of the dish.
Top with the reserved sauce and remainder of the cheese.
Bake the enchiladas for 15 minutes and all the cheese on top is melted.
Serve immediately topped with cashew sour cream and a sprinkle of Queso Fresco.
URL to article: https://againstallgrain.com/2012/01/23/chile-verde-chicken-enchiladas-scd-primal/
Click here to print.
Copyright © 2014 Against All Grain. All rights reserved.