Danielle Walker's Against All Grain
Grain-free Apple Spice Coffee Cake (SCD and Paleo)
Posted By Danielle Walker On December 10, 2011 @ 8:00 am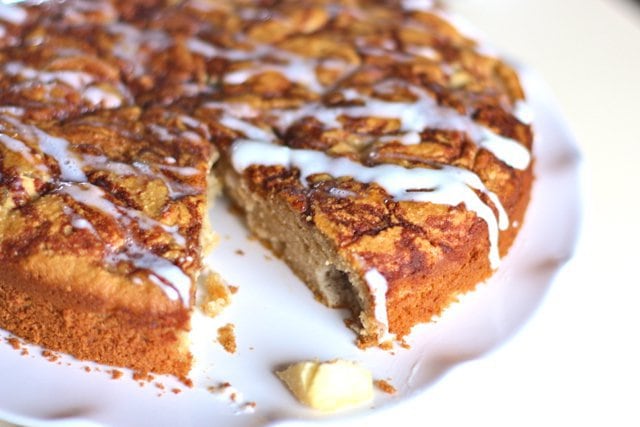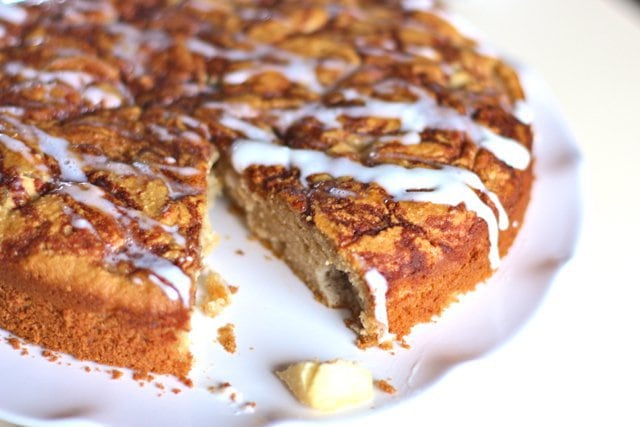 AUTHOR: Danielle Walker - AgainstAllGrain.com
Ingredients:
For the cake
For the cinnamon swirl
For the glaze
1 tablespoon coconut oil, softened but not melted
1/2 tablespoon unfiltered apple juice
1 tablespoon raw honey, in its solid state
2 tablespoons coconut cream (the solid fat that rises to the top of a can of coconut milk)
Instructions:
Preheat oven to 350 degrees.
Place a round piece of parchment paper at the bottom of a round cake pan, then lightly oil all sides with a little coconut oil.
Toss together the apples and lemon juice. Set aside.
Mix the flour, baking soda, cinnamon, cardamom, and salt in a medium sized bowl.
Mix the coconut oil, eggs, honey, and vanilla in another small bowl, then incorporate the wet into the dry ingredients.
Fold in the apple mixture, then spoon the batter into the prepared pan. Use a spatula to spread it into an even layer. The batter will be pretty thick.
Mix the cinnamon swirl ingredients in a small bowl, then drizzle around the cake. Use a toothpick or a skewer to drag the mixture around and make swirly patterns in the batter.
Bake for 20-25 minutes, or until toothpick comes out clean.
Cool on a wire rack, then use a knife to loosen the sides from the pan. Invert the cake onto the rack and peel off the parchment paper.
Flip the cake so it's right-side-up, and continue cooling either on the rack or by placing in the refrigerator.
Mix together all of your glaze ingredients in a blender or small food processor. If it's a little too runny, place in the fridge for 5-10 minutes to thicken it up a bit.
Drizzle over the cake, then serve immediately or store in the fridge for 1-2 days.
URL to article: https://againstallgrain.com/2011/12/10/gluten-free-grain-free-apple-spice-coffe-cake/
Click here to print.
Copyright © 2014 Against All Grain. All rights reserved.