Danielle Walker's Against All Grain
Grain-free and Dairy-free Pumpkin Pie (SCD, Paleo)
Posted By Danielle Walker On November 22, 2011 @ 1:14 pm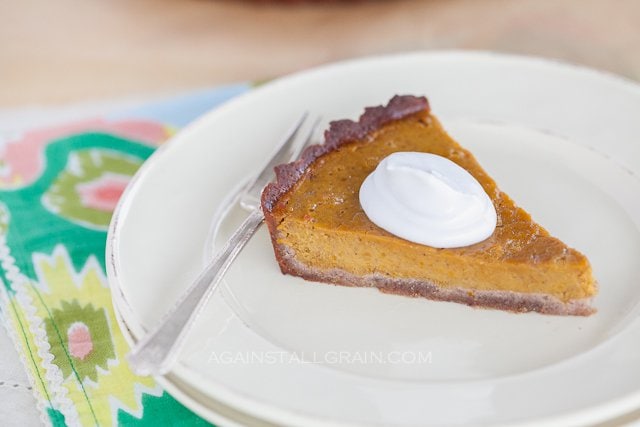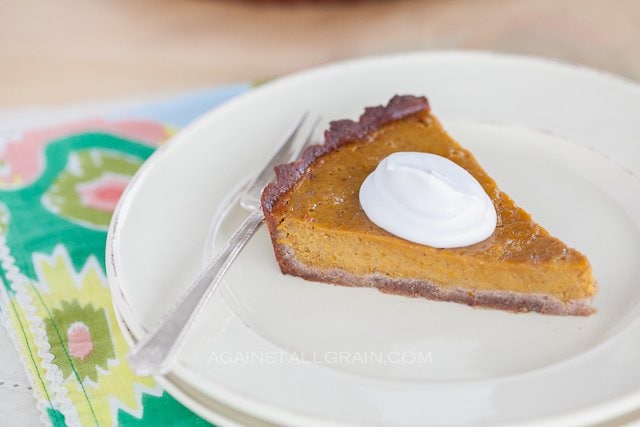 AUTHOR: Danielle Walker - AgainstAllGrain.com
SERVES: 6-8
Ingredients:
For the crust
For the filling
1 15 ounce can pumpkin puree (or about 2 cups fresh)
1/2 cup almond milk
3 eggs + 1 egg yolk
1 teaspoon vanilla extract
1/4 teaspoon kosher salt
1 teaspoon ground ginger
1 teaspoon ground cinnamon
1/2 teaspoon ground nutmeg
1/4 teaspoon ground clove
1/4 teaspoon ground cardamom
1/2 teaspoon lemon zest
1/2 cup grade B maple syrup (honey for SCD)
Instructions:
Add the pecans to a food processor and process until they have turned into a coarse flour.
Add the rest of the ingredients and process for 15 seconds, until a dough forms.
Press the dough into an 8 or 9-inch pie plate (or springform pan for easy release), spreading it up the sides and covering the bottom. Fill with pie weights or prick a few shallow holes in the crust with a fork to keep it from bubbling during baking.
Bake the crust at 325 degrees for 10 minutes. Remove it from the oven and cool for 10 minutes, then place in the freezer for 20 minutes.
Whisk all of the ingredients together in a bowl.
Pour the filling into a frozen pie crust.
Bake at 350 degrees for 35 minutes, or until the custard has set but is still slightly jiggly in the center. If the crust starts to brown too quickly, you can cover the edges with foil and continue baking.
Turn off the oven and leave it cracked open for 30 minutes while the pie cools. This will help it from cracking on the top.
Refrigerate until chilled, then serve with coconut whipped cream on top.
URL to article: https://againstallgrain.com/2011/11/22/grain-free-and-dairy-free-pumpkin-pie/
Click here to print.
Copyright © 2014 Against All Grain. All rights reserved.