Danielle Walker's Against All Grain
Grain-Free Thanksgiving Stuffing
Posted By Danielle Walker On November 21, 2011 @ 8:00 am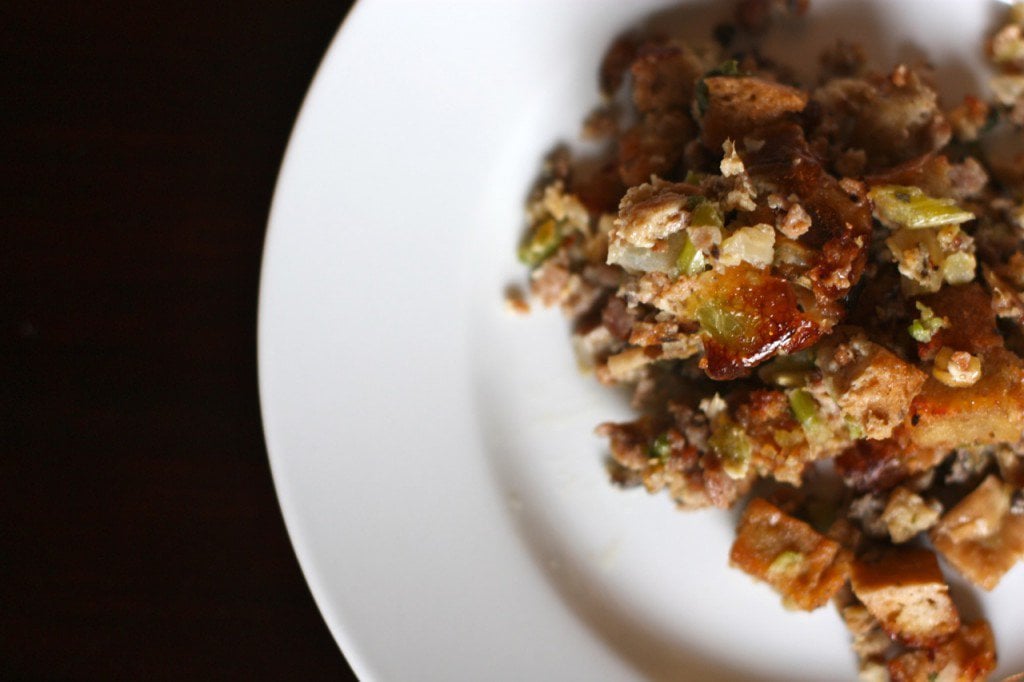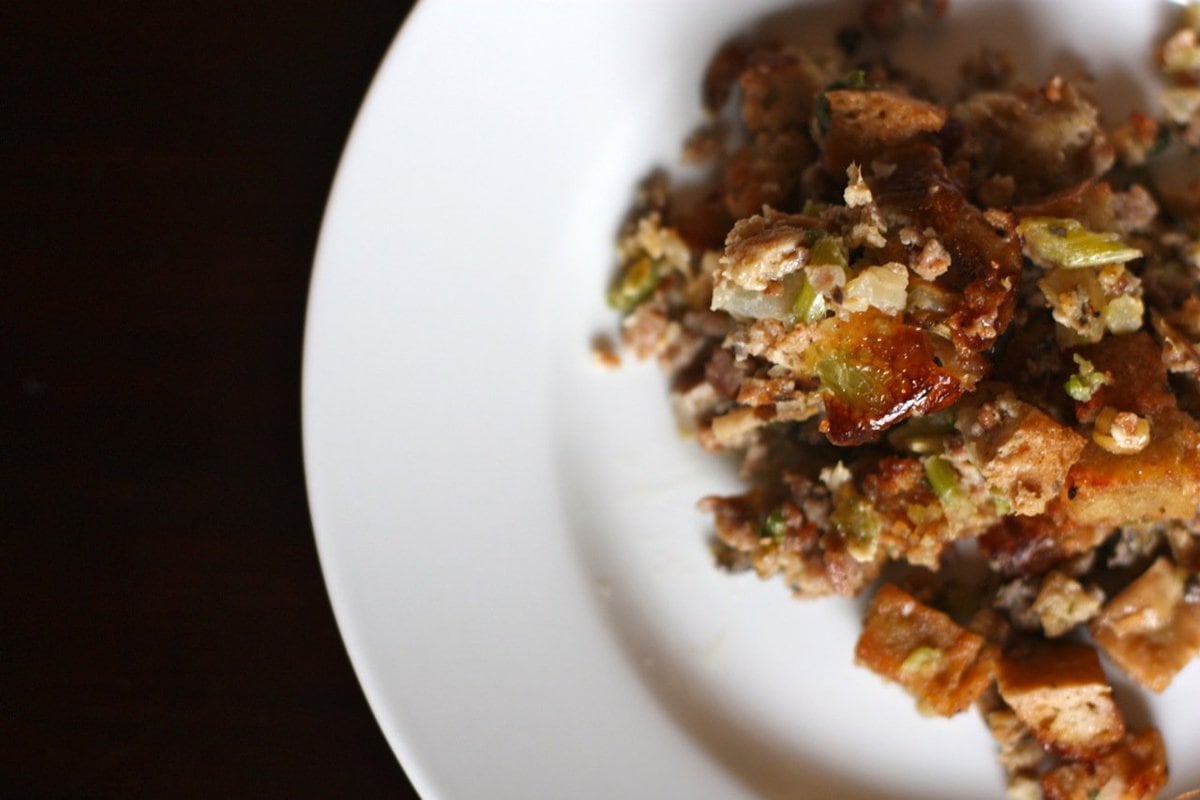 AUTHOR: Danielle Walker - AgainstAllGrain.com
Ingredients:
For the bread:
2-1/2 cups almond flour (2 & 1/2 cups)
8 ounces farmers cheese (dripped yogurt or thick greek yogurt will work too)
1/4 cup melted coconut oil or butter
1 teaspoon baking soda
1/4 teaspoon sea salt
3 eggs
1/4 cup water
1 tablespoon fresh herbs, chopped (rosemary, parsley, or thyme)
For the stuffing:
1 tablespoon extra virgin olive oil
1 yellow onion, chopped
2 celery stalks (leaves included), chopped
2 garlic cloves, minced
3 sprigs parsley, chopped
1 sprig rosemary, chopped
2 sprigs thyme, chopped
2 sage leaves, chopped
1/2 cup cremini mushrooms, chopped
1/2 pound sweet italian sausage (SCD legal)
1 medium fuji apple, chopped with skin on
6 cups bread cubes
3 eggs, lightly beaten
1/4 cup dry vermouth
1-1/4 cups turkey stock (or SCD legal chicken broth)
2 teaspoons sea salt
1/2 teaspoon pepper
7 tablespoons salted butter
Instructions:
Combine all bread ingredients (except for the flour and water) in a food processor and blend until smooth.  Add the flour and water and pulse until dough is combined. Dough will be a very sticky consistency.
Grease a 9×9 pan and put a rectangular piece of parchment paper at the bottom. This will help the loaf come out easily. Spread a little more oil on top of the parchment piece.
Fold the dough into pan and even it out with a spatula.
Bake at 325° for about 35 minutes. Careful to not let the top burn.
While the bread is baking, saute the celery, onions, garlic, sausage, apples, herbs and mushrooms in 1 tablespoon olive oil for about 15 minutes. Add the vermouth and bring to a boil. Remove from heat while you wait for the loaf to bake and cool.
Once the bread has cooled, slice it in half lengthwise to make two thin loaves.  Next, slice it into 1/2 inch strips and then across those cuts to make small cubes.
Coat with 5 tbsp melted butter. Place on a cookie sheet and toast in the oven for 30 minutes on 300° turning occasionally. The bread should come out golden brown and slightly dry.
Toss the bread crumbs with the sauteed mixture, eggs, salt and pepper, and turkey stock.
Transfer stuffing to a well buttered baking dish and sprinkle the additional 2 tablespoons of butter on top.  Cover with foil, and bake at 350° for 35 minutes. Uncover and bake 15 minutes until top is golden.
Tip : make the bread and toast it a couple of days before and store the toasted cubes in a ziplock. You can also saute the mixture the night before Thanksgiving and then put it all together right before baking.
URL to article: https://againstallgrain.com/2011/11/21/grain-free-thanksgiving-stuffing/
Click here to print.
Copyright © 2014 Against All Grain. All rights reserved.