Danielle Walker's Against All Grain
Roasted Pumpkin Soup
Posted By Danielle Walker On November 1, 2011 @ 8:00 am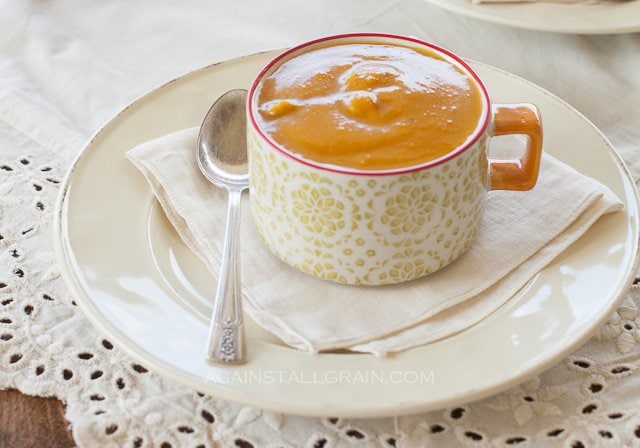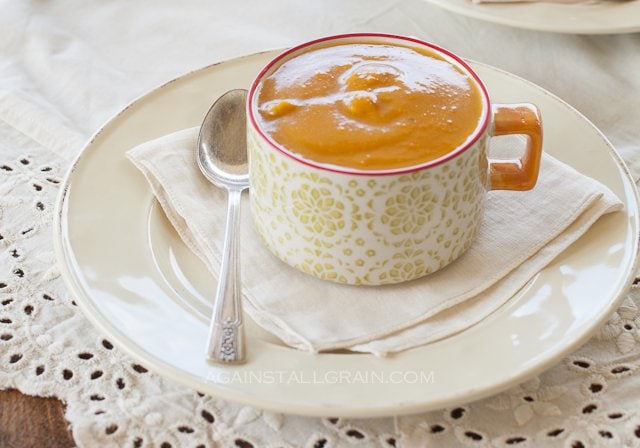 AUTHOR: Danielle Walker - AgainstAllGrain.com
Ingredients:
2-1/2 tablespoons extra virgin olive oil (divided)
1 sugar pumpkin (about 2 pounds, or 3 cups canned pumpkin)
2 teaspoons kosher salt (divided)
¼ teaspoon ground white pepper (divided)
2 carrots, chopped
1 small yellow onion, chopped
3 garlic cloves, peeled
1 teaspoon ground cinnamon
1 teaspoon fresh ground ginger (or dried)
½ teaspoon ground allspice
1 bay leaf
3 cups vegetable broth
1 tablespoon maple syrup (brown sugar or honey will work too)
½ cup unsweetened almond milk
¼ cup light unsweetened coconut milk
2 ounces prosciutto, cut into thin ribbons
2 tablespoons sage leaves, chopped
Instructions:
Preheat oven to 400 degrees.
Cut the pumpkin in half, and remove the seeds and stringy pulp.
Sprinkle with ½ teaspoon salt and ⅛ teaspoon pepper, then place them cut side down on a baking sheet lined with parchment paper. Drizzle the pumpkins with 1 tablespoon of olive oil.
Place in the oven and roast for 45 min – 1 hour, until soft. Remove the pumpkin and set aside to cool enough for handling.
Place the carrots, onions, and garlic on the same tray and roast for 15 minutes.
In the meantime, heat 1-1/2 tablespoons olive oil over medium-high heat in a heavy pot. Add the cinnamon, ginger, allspice and bay leaf. Stir the spices constantly for 1 minute, then add the broth, maple syrup, and all of the vegetables. Bring to a boil, then reduce heat and simmer for 15 minutes. Remove the bay leaf.
Working in batches, puree the soup in a blender. Make sure to vent the top of the blender, otherwise the steam from the soup will make it explode. I speak from past experiences!
Return all of the soup to the pot, then add 1-1/2 teaspoon kosher salt and ⅛ teaspoon white pepper. Stir in the almond and coconut milk, then set the heat to low and keep the soup warm while you fry the prosciutto and sage.
Heat ¼ cup olive oil over medium-high heat. Add the prosciutto and sage and fry until crisp.
I served the soup in small shot glasses as an appetizer garnished with prosciutto and sage. Enjoy!
URL to article: https://againstallgrain.com/2011/11/01/paleo-and-scd-pumpkin-soup/
Click here to print.
Copyright © 2014 Against All Grain. All rights reserved.