Danielle Walker's Against All Grain
Grilled Artichokes with Rémoulade dipping sauce
Posted By Danielle Walker On October 25, 2011 @ 3:48 pm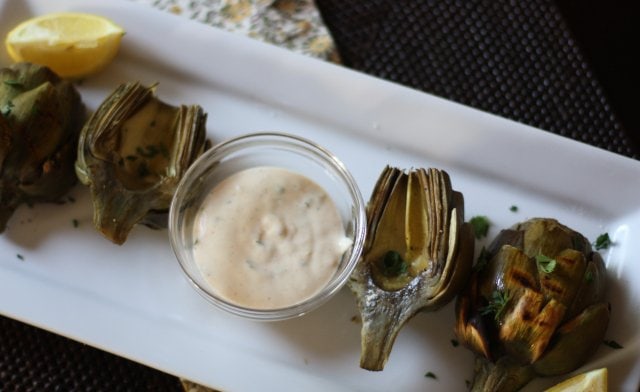 AUTHOR: Danielle Walker - AgainstAllGrain.com
Ingredients:
For the artichokes
4 artichokes
1 lemon (juiced)
2 tablespoons extra virgin olive oil
sprinkle of kosher salt and freshly ground pepper
For the sauce
2 tablespoons mayonnaise (homemade or from the jar)
1 teaspoon dijon mustard
1 garlic clove, crushed
1 teaspoon anchovy paste
3 teaspoons lemon juice
1 teaspoon chopped capers
1/8 teaspoon cayenne pepper
1/4 teaspoon apple cider vinegar
1 tablespoon chopped fresh parsley (If you don't have it, leave it out. Don't use dried)
dash of kosher salt and freshly ground pepper
Instructions:
Start by mixing all of the sauce ingredients in a small glass bowl. Cover with plastic wrap and refrigerate while you prepare the artichokes.
Fill a large pot 1/4 of the way full with water. Bring to a boil, then add juice of 1 lemon.
Trim the stalks of the artichokes and any leaves that are sharp. Using a sharp knife, chop off the top inch or so of the artichoke.
Cut each artichoke in half, and remove the hairy middle by scraping with a spoon.
Place the halves in the pot. The water should go about half way up the artichokes, do not submerge them.
Reduce heat to medium, and cook covered for 20 minutes. Meanwhile, heat a grill to medium-high heat.
Test an outer leaf for doneness. The meat should be tender but not fully cooked.
Drain the water and place halves on a cutting board.
Drizzle the flat side with EVOO and sprinkle with salt and pepper.
Place the artichokes cut-side down on the grill for 10 minutes.
Remove from heat and serve with sauce on the side.
URL to article: https://againstallgrain.com/2011/10/25/grilled-aritchokes-with-zesty-dipping-sauce-paleo-scd/
Click here to print.
Copyright © 2014 Against All Grain. All rights reserved.