Danielle Walker's Against All Grain
Gluten-Free Vanilla Almond Granola
Posted By Danielle Walker On September 20, 2011 @ 8:00 am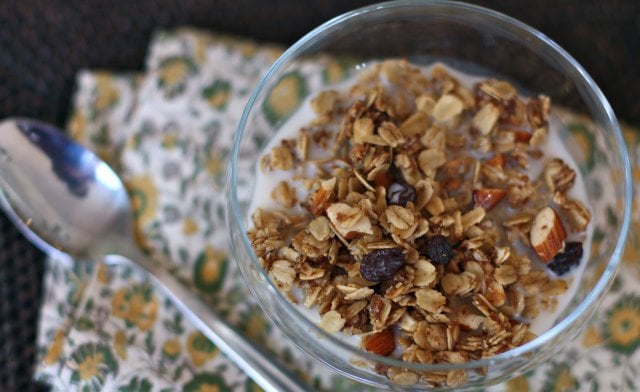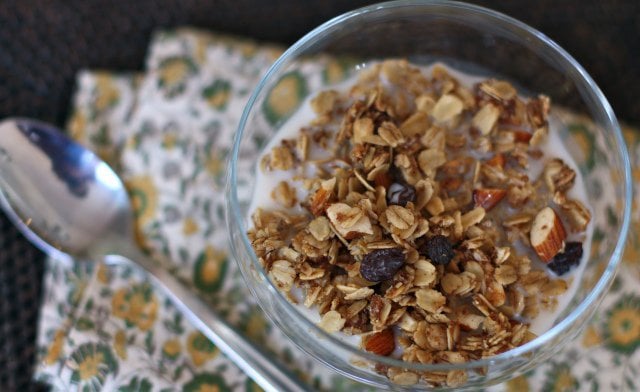 AUTHOR: Danielle Walker - AgainstAllGrain.com
Ingredients:
3 cups rolled oats (certified gluten-free)
1 cup almonds, chopped
1/2 cup flax seeds
1/2 cup unsweetened dried coconut flakes
1/4 cup coconut crystals (palm sugar)
1/2 tablespoon cinnamon
1/4 cup plus 2 tablespoons honey
1/4 cup extra virgin coconut oil, melted
3/4 teaspoon kosher salt
1 tablespoon vanilla
1 cup raisins
Instructions:
In a large bowl, combine the oats, almonds, flax seeds, dried coconut, coconut crystals, and cinnamon.
In a separate bowl, combine honey, oil, salt, and vanilla.
Line 2 sheet pans with sil-pats or parchment paper. Combine both mixtures, then pour out evenly onto the pans in a thin layer.
Bake at 250 for an hour, turning it occasionally for even browning. The granola will be somewhat soft when you pull it out, but will continue to crisp up while cooling.
Alternatively, you can dry in your dehydrator at 160 degrees for 20 hours.
Stir in the raisins, then let the granola cool completely before storing in an airtight container.
URL to article: https://againstallgrain.com/2011/09/20/gluten-free-vanilla-almond-granola/
Click here to print.
Copyright © 2014 Against All Grain. All rights reserved.