Danielle Walker's Against All Grain
Chicken Citrus Salad
Posted By Danielle Walker On September 8, 2011 @ 8:09 pm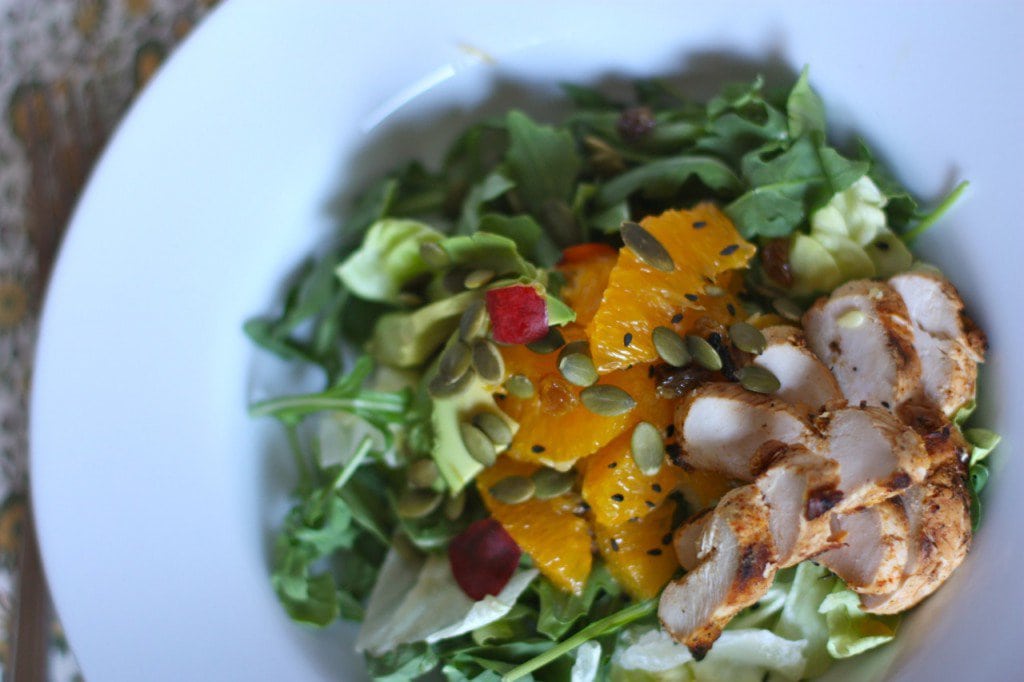 AUTHOR: Danielle Walker - AgainstAllGrain.com
Ingredients:
For the Chicken:
2 boneless, skinless chicken breasts
1/2 orange, juiced
1 lime, juiced
2 tablespoons olive oil
1 teaspoon cumin
1 teaspoon coriander
1 teaspoon chile powder
salt and pepper
For the dressing:
3 tablespoons fresh orange juice
1 tablespoon rice vinegar
1/2 tablespoon dijon mustard
1/2 tablespoon honey
1/4 cup olive oil
For the Salad:
2 oranges, segmented
1 avocado, cubed
1 heirloom tomato, diced
1/4 cup golden raisins
1/4 cup raw pumpkin seeds, toasted on the stove over medium heat until browned
1 tablespoon black sesame seeds
2 cups arugula
2 cups butter lettuce
salt and pepper
Instructions:
Marinate the chicken for at least 4 hours, or overnight.
Grill each breast over medium heat until the thickest part reaches 170 degrees with a meat thermometer.
Slice and set aside to cool for 5 minutes so the lettuce doesn't wilt.
Mix all of the dressing ingredients, except for the olive oil.
In a constant, slow stream, begin to whisk in the oil until well incorporated.
Assemble the salad ingredients, then add freshly sliced chicken.
Slowly add the dressing over top, being careful not to overdress it (you may not use all that you made, just adjust to your tastes).
Sprinkle a pinch of salt and ground pepper over the top then toss to mix.
URL to article: https://againstallgrain.com/2011/09/08/chicken-citrus-salad-paleo-scd/
Click here to print.
Copyright © 2014 Against All Grain. All rights reserved.