Danielle Walker's Against All Grain
Grain-free Coconut Flour Tortillas
Posted By Danielle Walker On May 4, 2011 @ 9:06 pm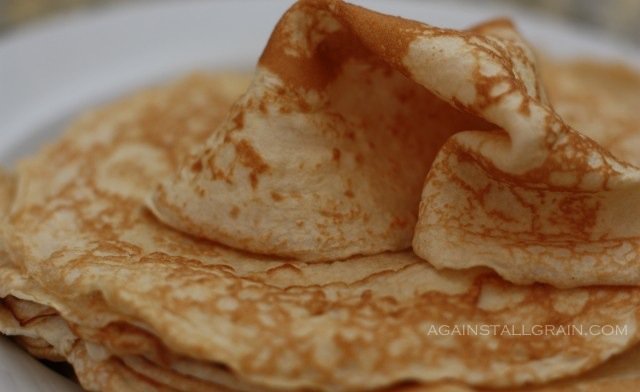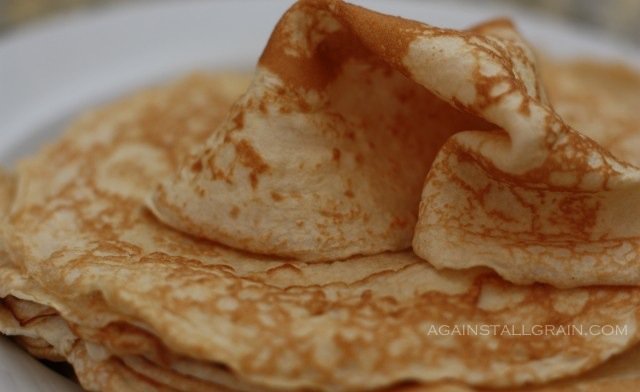 AUTHOR: Danielle Walker - AgainstAllGrain.com
Ingredients:
1/2 cup coconut flour
1/2 teaspoon grain free baking powder
1/4 teaspoon sea salt
1 1/2 cup egg whites (or 16 egg whites)*
3/4 cup almond milk
*you can buy the free-range organic egg whites in the carton if you'd like, or use your left over egg yolks for ice creams and custard pies!
Instructions:
Mix all of the ingredients in a non-reactive bowl.
Let sit for 10 minutes so the coconut flour can soak up some of the moisture, and then whisk again. The batter should be runnier than that of pancakes, about the same as a crepe batter.
Heat a non-stick skillet over medium high heat and spray with oil or melt enough butter to coat the bottom and sides of pan.
Pour 1/4 cup of the batter into the pan, swirling the pan while you pour to ensure the bottom is coated and the tortilla is thin.
Once the bottom looks set (about 1 minute), carefully release the sides of the tortilla with a rubber spatula and turn over.Alternatively, you could use a frittata pan, or turn the tortilla into another hot and greased pan or greased griddle. This may help the tortilla to stay in one piece. If your first couple break, don't fret and don't throw them away. Add a little more coconut flour and try again, but keep the broken ones to use as filling if you're making enchiladas.
Spray the pan again, and repeat above steps until all the batter is used. Layer the tortillas on a plate and set aside until you're read to fill them and bake.
URL to article: https://againstallgrain.com/2011/05/04/grain-free-tortillas/
Click here to print.
Copyright © 2014 Against All Grain. All rights reserved.